---

Kappy McNulty Hubbard
Reprinted with permission from Columbia Metropolitan Magazine, Spring 1996
Preschool children progress by leaps and bounds at the Columbia, South Carolina, Scottish Rite Center.

---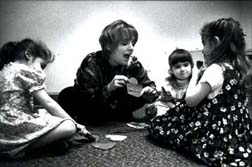 Just imagine the frustration of not being able to be understood by your parents and friends. Cindy Lawson, a mother of two young children, well remembers such feelings when she was a child. "I can remember getting so frustrated. Once when I tried to buy a bag of flour, the man couldn't understand what I was saying. I kept getting madder and madder as I got more and more frustrated," she says. Isolation, loneliness, and frustration. These are far too often the companions of children with language disorders. And far too often, these children exhibit aggression and temper tantrums because of their inability to communicate.
Luckily for Cindy's two children, however, there is now help for children with such language disorders. The Scottish Rite Center for Childhood Language Disorders provides professional language/speech therapy to pre-school children suffering from language disorders. Stephen, Cindy's ten-year-old son, began therapy at the center when he was three years old. According to Cindy, he had some unusual problems, "but they were great with him. He loved going; they made it fun. At the Scottish Rite Center the children feel very special."
Cindy has had equally positive experiences as daughter Sarah is currently receiving therapy at the center. "Sarah loves to play school so they have given her a folder with sounds to practice. She calls it her 'homework.'" Cindy has been pleased with her children's progress. "I wish they'd had something like this when I was little," she says.
The Scottish Rite Center for Childhood Language Disorders opened in 1987 and since that time has served more than 630 preschool children such as Stephen and Sarah. These children receive quality, state-of-the-art speech and language diagnostic and remediation services- and it is absolutely free of charge.
Supported by the Scottish Rite Foundation of South Carolina and through the generosity of the more than 15,000 members of the Scottish Rite Masons, the center has provided therapy to help families who otherwise would not have been able to help their children. The vision of H. Wallace Reid, head of the Scottish Rite Masons of South Carolina, with other dedicated Masons, started the process of chartering the foundation in 1985.
Martha McDade, program director, says that the center has chosen to serve only preschool children primarily because most researchers agree that early intervention is most beneficial. "First, it appears to reduce the number of children requiring intensive or long-term help. Studies have found that the younger a child begins language therapy, the more quickly the child progresses. Second," Martha adds, "early intervention has been shown to be cost effective. It costs the schools more money to educate a child with a speech-language handicap than it does to remediate the handicap prior to school entry."
Martha also points out that another tragic consequence of delayed therapy can be academic problems. "Without a firm language foundation, children often fail in the basic skills of reading, writing, spelling and math, and the feelings of failure and frustration can lead to emotional difficulties and poor self-esteem," she says. Martha says that she is encouraged by the earlier referrals being made by pediatricians, social service agencies, and by word of mouth. She and her staff, however, still encounter parents who keep hoping the problem will simply "go away."
Lorie Harris is among those parents who could not understand much of their child's speech. "We thought it was just a cute, baby thing," she says. When her pediatrician suggested therapy, Lorie admits, "It really upset me." She could not have been more pleased, however, with the Scottish Rite Center. "They make you feel as if your child is the only client. The teacher is always prepared. It is an excellent service."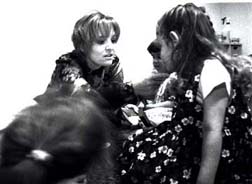 Martha McDade works with young children at the Columbia, South Carolina, Scottish Rite Center for Childhood Language Disorders.
Praise such as Lorie's and Cindy's speaks volumes about the caring, quality staff of the Scottish Rite Center and the leadership of Martha who was recently awarded the highest honor given by the South Carolina Speech-Language-Hearing Association. The center also serves as an observation and practicum site for students enrolled in undergraduate and graduate speech-language pathology courses and programs.
Retired Colonel Arthur R. Datnoff chairs the center's Board of Directors and the Scottish Rite Foundation's fundraising committee. Art is proud of the services provided by the center which is housed in the Columbia Scottish Rite Temple at 7230 Sumter Highway. He is also pleased that this fall the Columbia center will participate in the first national meeting involving speech/language pathologists from the 122 language clinics, centers, and programs supported by the Scottish Rite Masons in 36 states.*
Art says the South Carolina Scottish Rite Masons hope one day to have centers across the state. Building a foundation takes time, however, and Art points out that is costs approximately $81,000 a year to support the center in Columbia. This $81,000 translates to a per-child cost of approximately $1,620, a sum which, if passed on to the families, would keep many children from being served.
Julia is one of the many children whose parents were desperately seeking speech therapy for her, but simply were unable to pay for it. They had watched their outgoing toddler "shrink away" from her peers and become withdrawn because of her inability to be understood. Her mother says, "It broke my heart to see her pull away." After seeking professional help but not being able to afford it, Julia's mother reports that upon finding the free services at the Scottish Rite Center, "I started crying. I couldn't believe it when they said it was free."
Within nine months of therapy, Julia, who had rarely spoken to others, told a worker at McDonald's Hamburgers, "I'm saying hello to you. Do you hear me?" According to her mother, from that point on, Julia took on the world. As Julia's speech progressed, so did her confidence. "After watching her take on such a severe problem and conquer it...and come out shining on the other side, Julia now has a sense about her...she knows she can work hard and get there."
The commitment of the South Carolina Scottish Rite Masons to help children such as Julia, Stephen, and Sarah is to be celebrated, as are the compassion and professionalism of the center's staff. As Julia's mom says, "It has been the greatest gift. I had no resources to give my child what she needed. But there was an answer, and it was at the Scottish Rite Center."
*A reference to the conference of Scottish Rite clinics in Denver, September 20-21, 1996.

---