W. Bob Turner, Ph.D., 32
Sherman Oaks, California
Brother Roy is one of the best-known and most-beloved persons in the rich heritage of Western entertainment and culture.

---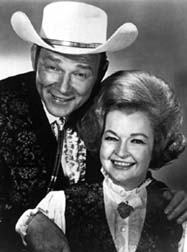 Illustrious Brother Roy Rogers, 33, was a superhero to millions of children and adults around the globe for over fifty years. Roy always personified the good guy who triumphed over evil. He was the same person off-screen as he was on-screen. He always said it was easy to act his parts because he was only playing himself, "I am, what I am." Roy Rogers inevitably took a stand for right, and right always won out in the end. This is what he believes and what he exemplified in his daily life.
Roy Rogers and Dale Evans
Brother Roy was raised a Master Mason in 1946 in Hollywood Lodge No. 355, F.&A.M., Hollywood, California. He became a member of Long Beach Valley of Scottish Rite in 1950 and Al Malaikah Shrine Temple, Los Angeles, also in 1950. He received the K.C.C.H. of the Scottish Rite in 1975 and was coroneted a 33 in 1979. He also became a member of the York Rite, Harbor Council No. 45, Royal and Select Masters, and San Pedro Commandery No. 60, Knights Templar of California. Created a DeMolay at sight by Frank S. Land, the founder of the Order of DeMolay, Roy received the DeMolay Legion of Honor. He also received the California Grand Lodge's Golden Veterans Award for 50 years of continuous membership in Masonry.
Born Leonard Franklin Slye on November 5, 1911, in Cincinnati, Ohio, he moved with his family to California in 1930. After several jobs, he decided to try his luck as a western singer. He performed with several groups, and in 1933 formed the Pioneer Trio that became the legendary Sons of the Pioneers in 1934. In their first recording session for Decca Records, they recorded "Tumbling Tumbleweeds" which became their trademark theme song.
Republic Pictures signed Len Slye to a movie contract in 1937 for the sum of $75 a week. He changed his name to Roy Rogers in 1938 and went on to make more than 100 films, 87 for Republic.
Roy Rogers and Dale Evans first worked together in 1944. Roy was every boy's hero, and Dale became Roy's bride in 1947. Sharing adventure and song under Western skies, they rose to glory as one of America's most famous couples. They continued working together as a team in movies, live performances, and on television.
There was a great need for family value programs in the then new medium of television. Roy and Dale moved from movies to NBC Television in 1951 to become one of the first successful family oriented programs of the 1950s. They continued on NBC until 1957 and made more than 100 episodes. The program was put into syndication, and it is still seen today in the USA and several foreign countries around the world. Roy and Dale then moved to CBS and continued the show until 1961.
To say that Roy's career was one-in-a-million would not be overstating his accomplishments. Cold statistics do not tell a complete story, but sometimes they do help to define the unique characteristics of an individual.
Roy starred in 87 musical Westerns for Republic Pictures, and for 12 consecutive years in the 1940s and '50s he was the number one Western box-office star.
His 16 TV Specials on NBC attracted higher ratings than his competition, the "Jack Benny Show" and the "Alfred Hitchcock Show."
His top-rated half-hour TV series ran on NBC for six and a half years and then moved to CBS where it ran for three more. It was then repeated through syndication for an additional three years and is still seen in American and foreign markets today.
His radio show on Mutual Network aired on more than 500 stations and was heard by more than 20 million people each week. In the 1950s, the Sears Catalog carried more than 400 Roy Rogers licensed products.
Roy and the Sons of the Pioneers rode the range and sang many great western songs around the campfire. The Sons were the first country and western musical group to achieve national stardom. At one time, Roy and the Sons were selling more than 6,000 records per week.
Roy's picture appeared on 2.5 BILLION boxes of Post cereals. Roy Rogers comic books sold more than 25 million copies each year, and his newspaper comic strip reached more than 65 million readers each week.
Roy is the ONLY performer to be elected the Country Music Hall of Fame—TWICE. He has four stars on the Hollywood Walk of Fame, one each for movies, radio, records, and television. Roy and Dale were also well known for their charitable appearances, more than 6,000 in all, including visits to Shriners Hospitals for Children all over the country.
More than 12 million people saw Roy in person in rodeos that played cities throughout America. He set all-time single-day records at New York's Madison Square Garden and other arenas and stadiums, and once sold out the Garden an incredible 29 straight nights. Plus, Bro. Roy holds the record for the largest crowd to ever see an indoor rodeo (46,884 in the Houston Astrodome). He twice attracted more than 100,000 people to rodeos in the Los Angeles Coliseum.
Roy's enormous popularity transcends all forms of entertainment, from live performances to movies, records, radio, and television. His personal and Masonic values are one and the same. If you were to ask Roy what was most important to him, he would say, "My God and my family." Roy and Dale raised nine children and have sixteen grandchildren, and thirty great-grandchildren, so far.
Brother Roy is truly an American legend and one of the best-known and most-beloved persons in the rich heritage of Western entertainment and culture. Today, the "King of the Cowboys" lives a quiet rural life and tries to visit the Roy Rogers–Dale Evans Museum in Victorville, California, a few days a week to greet friends and fans. As Roy might say, "Y'all come by and visit a spell!"
References
1. Happy Trails, Our Life Story, an autobiography by Roy Rogers and Dale Evans with Jan and Michael Stern (NY, Simon & Schuster, 1994)
2. Kemmerer, Walter L., "Recollections of Illustrious Roy Rogers, 33," Scottish Rite Journal (August 1990)
3. Rothel, David, The Roy Rogers Book (Madison, NC, Empire Pub. Co., 1987)
4. The Roy Rogers–Dale Evans Museum, 15650 Seneca Road, Victorville, CA 92392 Tel. 760–243–4547.
5. Tribe, Ivan M., "Sir Knight Roy Rogers, King of the Cowboys," Knight Templar (September 1997)
---