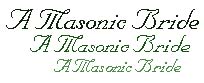 Elayne Wolfenson
Mt. Plymouth, Florida
By participating in her husband's Masonic activities, a wife feels she has been a "Masonic bride" for 40 years of happy married life.

---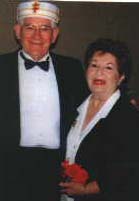 Some 40 years ago, shortly before we met, my husband, Jack David Wolfenson, had just become a Mason. When we settled in south Florida, he was quick to join the closest Masonic Lodge in the neighborhood. He would leave for Lodge every Tuesday and get home about 10:30 pm, always cheerful and with a sense of accomplishment. One Tuesday night, he came home happier than usual. I could tell something exciting must have transpired. He smiled and said, "The Lodge appointed me Assistant Tyler." I questioned what that meant, and he said he would be assisting the Tyler who minded the door allowing no strangers to enter during meetings. It was a wonderful job because it would allow him to meet and greet all the Brethren as they entered the Lodge.
Ill. Jack D. Wolfenson and his wife, Elayne
The next few years flew past as Jack moved up in the chairs. There was always something happening with Jack inevitably in the middle of the action. For instance, he helped organized a yearly trip to the Masonic Home in St. Petersburg, Florida, usually renting a bus for 46 persons. Some years we needed more than one bus. Then there were the arrangements to stop for lunch. Everyone going brought some special little gift for the residents. It became an annual ritual we named "Christmas in October."
Other Masonic trips were arranged, and I got to meet all the wives. The Lodge became the center of our lives, recreation, and social times. All the Brothers and their wives became our friends. Involvements expanded as Jack joined the Scottish Rite, York Rite, Shrine, and Royal Order of Scotland.
Then, at long last, Jack became Master of his Lodge. What a wonderful year that was! I enjoyed being the Lodge's First Lady as much as Jack did being Master. Then the letdown—Past Master—but not for long. The next Master, a wonderful and brilliant physician, became ill after serving about half his term, so Jack took over the rest of his term.
Meanwhile, there were many young men coming up through the chairs, but when the next election came about, the Brethren thought the younger men were too inexperienced, so they requested Jack to serve again as Worshipful Master. He agreed cheerfully, and I again enjoyed my time as First Lady of the Lodge
I must add that this was no small Lodge. Hibiscus Lodge No. 275 had about 1,200 members at that time and was one of the most active Lodges in Miami Beach. Jack may have broken some sort of record by being Master two and a half times, but things change and time moves on gracefully.
I retired after working 28 years in law enforcement, Jack sold his business, we sold our home and relocated to central Florida where Jack found a new Blue Lodge, Tavares No. 234. Again he toiled (always a labor of love) and received a new, most wonderful honor. He was appointed District Deputy Grand Master. Again, he was challenged to the fullest and even discovered yet another Masonic niche to work in, the Scottish Rite Valley of Orlando. In joining the Rite, Jack was carrying on his family's Masonic tradition.
The older Jack got, and the wiser, he spoke about his father a great deal. Jack was in the Navy during World War II, and towards the end of the war, when he was home on furlough, his father passed away before Jack was 21 years old. Jack knew his father was a Mason, but he remembered only slightly the nights that his dad went to Lodge. It didn't register with him as being anything that important.
In later years, after his mother passed away, Jack was going through his family's belongings and discovered his father was a 33 Scottish Rite Mason. Not really knowing what that meant, he still knew it was very important. Always wanting his dad to be proud of him, Jack joined the Masons and has held an appointed or elected position within the Masonic Fraternity for the last 35 years. Often I've heard, as I'm sure you have, that the spouses of Masons are sometimes referred to as "Masonic Widows." I have always considered myself a "Masonic Bride."
Both Jack and I have thoroughly enjoyed Freemasonry and especially the Orlando Scottish Rite meetings to which women are invited. Dinner is served, the men go on to their meeting, and the women congregate in the library for our own get-together. I enjoy these monthly gatherings very much. The friendship, fellowship, and food are wonderful. Plus, we are active in the Lake Scottish Rite Club which also meets once a month. This is a smaller group of Scottish Rite Masons where I get to know everyone and consider them all my friends. Jack has served as Club President and is still serving as Secretary. It's a fun time with wonderful people.
And one day the letter came. Jack would be presented a red cap, the Knight Commander of the Court of Honour. A shocker, a surprise, a delight, what wonderful news! Jack wore this cap with such respect and dignity. What a marvelous privilege. How happy he was. How happy I was to share his joy. In addition, he still enjoys going regularly to Blue Lodge, his first Masonic love, and being with all the Brethren.
As I am left home alone, what are my feelings as the wife of a Mason who is busy with Masonic functions every week, many times more often than once a week? I can honestly, unequivocally say I am very proud. I know the work the Fraternity does. I know the philanthropies, the work with children. I know the important things that go unnoticed and unpublicized. I also know about the deep and lasting friendships that are formed, and I know many good men who are now better men because of Masonry. I understand and appreciated Jack's love of the Fraternity.
One day, not that very long ago, another message came. He would be given the white cap, the ultimate, the most meritorious reward of all, the 33 Inspector General Honorary. All I could think of was how very, very proud his dad would be, and how very, very proud I am.
Now, after receiving the ultimate reward, the work and accompanying sense of satisfaction in being involved in so good an endeavor begin again. The challenges never end. So I say thank you, Freemasonry, for giving me this wonderful man and awarding him the white cap. As he wears it, I wear mine also. Mine is invisible, but it is there, white as snow, and I am proud and privileged to share in the Masonic mission Jack and I love so much!
---