Percy Wootton, MD, 32
President, American Medical Association
Richmond, Virginia
The physician-patient covenant is representative of each individual's proper relation of trust, compassion, responsibility, and service to his fellowman and society at large.

---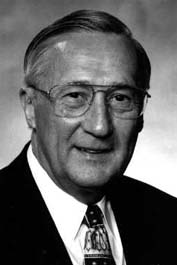 I knew at an early age I wanted to be a doctor. I guess growing up on my father's dairy farm, near Burkeville, Virginia, gave me some perspective of what it is like to be on call as every doctor is. Those cows had to be milked no matter how cold it was outside or how you felt or what else was on your mind.
Percy Wootton, MD, 32
Another influence directing me to a career in medicine was my wife's great, great grandfather's medical office. His little examination room stands today by the side of the road near the old family home halfway between Richmond and Charlottesville in the small village of Cuckoo, Virginia. It is a museum now. Local school children come to see the old instruments and tools of the profession. My thoughts often return to that little office. Thinking about that little town and old Dr. Pendleton brings me back to a simpler time when patients really knew their physicians, physicians really knew their patients, and both faced fewer obstacles on the road to wellness.
Granted, the cures and technology back then do not match today's advances—but what joy it must have been to be able to care for patients without all the intrusions we face today. Thinking about Grandfather Pendleton's office also reminds me of what is really important in the medical profession and why I chose to become a doctor in the first place. When I remember his office, the things I think about most are its two chairs, one for the patient and one for the physician. Actually, there's not really room for much else. The office is only 10 by 16 feet. In fact, it is so small that the patient's chair reclined into an examining table when one was needed.
While this simple image of two chairs may seem unimportant in today's high-tech world of medicine, I think just the opposite is true. Nothing is more important today than what unfolds between physician and patient in similar chairs—in offices, clinics, and hospitals—all across the country each and every day. It is from these chairs we counsel our patients and our patients confide in us. In these chairs the sacred patient-physician relationship begins, and grows, and becomes rooted as if we were family.
To me, nothing is more important.
In fact, I view the patient-physician relationship as a covenant—a sacred trust between the medical profession and society that must never be breached or broken. Protecting that covenant, based on honor and trust, and preserving the trust that took place in those chairs should be every doctor's top priority as we counsel and care for patients openly, honestly, and always with their best interests at heart. Each of us must work to protect that covenant.
Tip O'Neill, the late Massachusetts Congressman who served so long as Speaker of the U.S. House of Representatives, once made the observation that all politics is local. The same can be said of health care. When a person needs a physician, he or she doesn't care about legislation in Washington or what the American Medical Association (AMA) is doing in the public health arena. Patients only care about finding that chair, their chair, in their own hometown.
Patients want to be able to sit across from a physician they can trust, one who will serve them and their medical needs to the best of that physician's ability. Of course, as physicians, we must not only care for the patients we see, but for the many more we will never see.
And that's why, after protecting the patient-physician relationship, doctors must promote initiatives and policies that are good for the public health. For example, the AMA and the American Bar Association are co-chairing a major national coalition to help families, communities, and institutions fight the terrible plague of substance abuse. Our aim is to bring together doctors, lawyers, teachers, psychologists, state and local lawmakers, social workers, labor unions, and local chambers of commerce to address sub- stance abuse at the grassroots level. We are just getting started, but already more than 30 national organizations have joined us. This coalition is just one of the many steps the AMA is taking to address important public health concerns.
Another priority must be to promote community service by every doctor and citizen in America. Community service is a stated objective in the AMA's 150-year-old Code of Ethics. It has always been one of the best ways the medical profession can reach out to the public. What medicine really needs today is a face—your face. Part of giving back to your community is putting your face out where it needs to be, out among the people who write the rules, who vote, who are the ultimate recipients of medical care.
Each time we head into our communities to share our work, we become a living, breathing, walking, and talking advertisement for medicine. To borrow a phrase from Madison Avenue, if we are to gain our patient's trust and respect, we have to do things the old-fashioned way—we have to earn it. In this age when patients often pick their physicians sight unseen, it is easy to lose the human element of medicine. And that is something our patients and our profession simply cannot afford. The principles we must live by today are simple but essential: Trust, Compassion, Responsibility, Service.
I know we can't change all the complexities that drive the modern world and medicine today. But within these principles, within our lives, within those two chairs in a doctor's office, we can control the most important part of our lives and of medicine, the relationship we share with our patients and what we do to help them, heal them, and protect them.
Developing strong relationships with our patients and our communities is a pretty simple concept. But it is one that, if each of us did it, could have tremendous impact. As Winston Churchill said, "You make a living by what you get, but you make a life by what you give."
The above article is a shortened version of the acceptance speech Bro. Wootton delivered to the American Medical Association's 146th Annual Meeting in Chicago on June 25, 1997, upon Bro. Wootton's inauguration as President of the Association.
---