C. Fred Kleinknecht
Sovereign Grand Commander
Southern Jurisdiction, USA
What makes a man a hero? More specifically, an American hero?
That is the question posed—and answered—in this special issue of the Scottish Rite Journal. In the following pages, you will find brief biographies of generals and enlisted men, of business tycoons and blue-collar employees, of world-famous authors as well as nationally prominent politicians and average citizens. Each has excelled. Coming from humble origins, each has answered the inner call to be the best he can be and, in doing so, has contributed significantly to his community and the world.
That each is a Mason underlines, in my opinion, the fact that Freemasonry embodies the highest qualities of our national character. Our typically American ideals of "life, liberty, and the pursuit of happiness" reflect Freemasonry's tenets of individual improvement, freedom for self and society, and an ethic of work whose goal is not solely material possessions but the deeper happiness of wedding heart, mind, and soul to attaining high goals while serving others.
The Scottish Rite Journal has featured "Masonic Heroes" issues before, six in recent years. And I look forward to more of these biographical collections, for we need more than abstract exhortations. Rhetoric can inspire, but nothing impresses like hard, real actions, the examples of men like ourselves who have gone beyond meeting everyday needs to fulfilling the dreams and aspirations we all harbor in our hearts.
My personal nominee for the status of American hero today is Brother Arnold Daniel Palmer. Like millions worldwide, I have watched his career closely. His own golf style is a great lesson in sportsmanship. His business sense is an example of American entrepreneurship at its best. His dedication to philanthropy sets an example for us all. I was not surprised to discover he is a member of Loyalhanna Lodge No. 275 in his hometown of Latrobe, Pennsylvania, nor that he is a 33 Inspector General Honorary Elect in the Northern Masonic Jurisdiction of the Scottish Rite of Freemasonry. He will receive this great honor on September 23 this year at the Northern Masonic Jurisdiction's annual meeting in Grand Rapids, Michigan. My hope is that our Jurisdiction can also honor this fine Brother in 1997 and so give national Masonic recognition to a man known by every American, whether a golf enthusiast or not.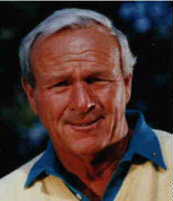 Regarding sports, there is no need to repeat the long list of Arnold Palmer's golf career victories (over 90) made up, in part, of Senior PGA wins and international triumphs. Brother Palmer is the most famous figure ever to play the links. Appropriately, he is a member of the World Golf Hall of Fame, American Golf Hall of Fame, and All-American Collegiate Golf Hall of Fame. His genial personality, working-class roots (he began as a greenskeeper/caddy), and come-from-behind successes have endeared him to millions. An "Arnie's Army" of fans follows his every move. As golf's first true superstar, he has brought what was once an elite sport within the knowledge and grasp of every American.
Arnold Palmer, 33 Elect, Northern Masonic Jurisdiction
As to American enterprise, Brother Palmer, exercising his keen sense of business, has invested his sport winnings into a multi-million-dollar conglomerate manufacturing sporting goods, publishing sports books and videos, building golf courses (some 200 nationally and worldwide), and establishing the Arnold Palmer Golf Academy—a commercial empire he personally manages by piloting his own Cessna Citation jet from one company's location to another.
An American of unblushing patriotism, Brother Palmer gladly served a three-year hitch in the U.S. Coast Guard. A family man before all else, he married Winifred Walzer in 1954, and they are rightly proud of their two daughters, four granddaughters, and grandson.
What impresses me most about Arnie, however, is his charitable spirit. As with every true Masonic Brother, Relief is a principle Brother Palmer holds as dearly as Brotherhood and Truth. He served as Honorary National Chairman of the March of Dimes Birth Defects Foundation for 20 years. In addition, he played a major role in fundraising for the Arnold Palmer Hospital for Children and Women in Orlando, Florida. Not forgetting his hometown, he is a longtime member of the Board of Directors of the Latrobe Area Hospital and established a major annual fundraising golf event for that institution in 1992. Brother Arnold Palmer's humanitarian awards are too numerous to mention, but here are just a few of them: Order of Eagle Exemplar, U.S. Sports Academy; Arthur J. Rain Award, Catholic Youth Association, Pittsburgh; Lawman Humanitarian Award, Los Angeles; the Theodore Roosevelt Award, National Collegiate Athletic Association; Outstanding American Award, Los Angeles Philanthropic Foundation; Sports Legend Award, Jr. Diabetes Foundation, Pittsburgh; Humanitarian Award, Variety Club International; and my personal favorite, The "Good Guy" Award, American Legion National Commanders.
No doubt about it. Arnold Palmer is a "Good Guy," outstanding Mason, and American hero. In the House of the Temple, we honor such nationally prominent American Brethren in a special place, a Scottish Rite Hall of Honor where we now have 16 original oil portraits of such greats as, among others, President Harry S. Truman; Admiral Arleigh Burke; Generals Douglas MacArthur and Jimmy Doolittle; Senators Sam Ervin and Sam Nunn; entertainers Will Rogers and Gene Autry; clergymen the Rev. Dr. Norman Vincent Peale, Bishop Carl J. Sanders, and Rabbi Edgar F. Magnin; and Scottish Rite leaders such as Robert L. Dillard, Jr., Charles E. "Ted" Webber, and William M. Hollis.
To reinforce the all-American aspect of Freemasonry, it would be great to have a portrait of Brother Arnold Palmer in the Hall of Honor. This suggestion promptly received Brother Palmer's permission, probably because donations to support such a portrait will benefit the House of the Temple Foundation and so assure that this finest of Scottish Rite buildings is properly maintained and preserved for our future generations. The Foundation is a 501(c)3 organization; thus donations are tax deductible.
Whether you are a golfer, sportsman, American Mason or all three, I urge you to support this program and send a check designated for Brother Palmer's portrait, made payable to the House of the Temple Foundation, to 1733 16th Street, NW, Washington, DC 20002–3103. Together we can honor this outstanding Masonic Brother, create a Hall of Honor even more representative of American Freemasonry and, at the same time, bring the noble architecture of the House of the Temple safely into the 21st century!