Brother Shares A Life
Jo Heather C. Layton
The American Red Cross
1-800-MARROW-2
In June 1987, Wayne Kelly learned about the National Marrow Donor Program (NMDP) through his work at the American Red Cross. The NMDP program was created in 1987 to provide bone marrow transplants from volunteer, unrelated donors to patients with leukemia, aplastic anemia, lymphomas, and other life-threatening diseases.
Kelly decided to become involved and had the blood test required to become registered in the program. When asked why he chose to become a bone marrow donor, he said, "The bottom line is that I feel we are placed here to help others, and I would like to think somebody would do the same for me."
It wasn't until February of 1991 that the registry contacted him for a second stage of testing to find out if he was the match needed by a patient waiting for a transplant. By May, Kelly moved onto a third stage testing and, one month later, he received a formal request for a bone marrow donation. At that time, it was very rare for nonrelated donors to give bone marrow to patients, and Kelly was the first to have the procedure performed at Pitt County Memorial Hospital in Greenville, North Carolina.
---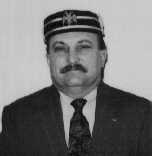 Editor's Note: This article continues the story of Bro. Wayne E. Kelly's contributions to mankind. Bro. Kelly (pictured right) is a member of Norview Lodge No. 113 and a 32 Mason in the Valley of Norfolk, Virginia. He was featured in two previous Scottish Rite Journal articles about donating blood, both whole and aphersis, and bone marrow (Feb. 1992 and Aug. 1993). The present article was requested from the Red Cross by Ill. Goodwin B. Spencer, 33, Editor of the Scottish Rite Mirror, Valley of Norfolk, and Secretary of Norview Lodge No. 113 which with 768 members is the largest Lodge in Virginia.
---
"The procedure was not that complicated. I was given general anesthesia, and the harvesting was done from the flat bone across the back of my pelvis," explains Kelly. "The procedure was done on a Thursday, and I returned to work on Monday." The donor is usually kept overnight for observation, and the donor's marrow replenishes itself within a few weeks.
Kelly's donation saved the life of a 31-year-old patient with Acute Lymphoblastic Leukemia (AML). One year later, Kelly and his recipient, Donald Creighton, met. "Without Wayne's donation, I had no chance of survival," revealed Creighton. "I am very thankful to have been given a second chance."
Amazingly enough, Kelly was requested for a third stage of testing again this past September. "It is very rare for this to occur, but Wayne was asked to donate bone marrow for a second time," said Sherry Challenor, Bone Marrow Recruitment Manager in the Norfolk, Virginia, area. "He donated at Sentara Norfolk General, and it was the second transplant for a patient suffering from acute leukemia. To date, we know that the recipient is doing better than before the transplant, but is experiencing Graft vs. Host disease infections. The family of the patient is very thankful for Wayne's Gift of Life."
"Because I work in an operating room, I didn't have any fears going into either one of the bone marrow surgeries," explained Kelly. He is an Intraoperative Autologous Transfusion (IAT) Technician for the American Red Cross and has been with the organization for almost sixteen years. "I felt at peace knowing I was in good, well-trained, competent hands."
There is an urgent need for more volunteers on the National Marrow Donor Program Registry. Because the characteristics that determine a match are genetic, it is most likely that, outside his or her own family, a patient will match a donor within his or her own racial group. As of June 1, 1995, the NMDP has facilitated 3,463 unrelated bone marrow transplants throughout the world.
Each year, 30,000 people in the United States are diagnosed with life-threatening diseases for which a marrow transplant can be a cure. Marrow is a liquid organ found inside larger bones of the body. The likelihood that an individual will find an unrelated marrow donor varies greatly depending on how often the person's tissue type occurs in the population.
Individuals between the ages of 18 and 55 who are in good health can be potential donors for the program. The whole tissue typing process, including paperwork and drawing two vials of blood for typing, takes only 15 minutes. Share Life. Join the NMDP Registry and give all patients an equal chance of finding a matched donor. For more information about National Marrow Donor Program and to schedule an appointment, please call 1-800-MARROW-2.