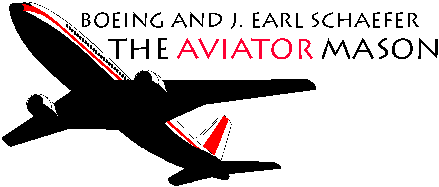 James A. Marples
Rose Hill, Kansas
Given the continental span of our nation, Americans have always sought fast, efficient, and convenient transportation. In this century, aviation has come to the forefront in meeting the needs of our mobile society. Our departed Masonic Brother J. Earl Schaefer was a key figure in this development.
To grasp fully the significance of his role, we must realize that Brother Schaefer was born in 1893, some ten years before the Wright brothers made history. Back then, the first airplanes inspired awe among spectators, and the dashing and daring aviator was regarded as a larger-than-life hero, almost a personification of American Freedom.
As a young man, Brother Schaefer yearned to fly. He graduated from the United States Military Academy at West Point in 1917, was assigned to the 46th Infantry, and was detailed from it to the Aviation Section of the Signal Corps (predecessor of today's U.S. Air Force). He received his training at the University of Texas, Kelly Field, and Post Field at Fort Sill, Oklahoma. His flying was done in old Curtis "Jennys" and DeHavilands, far cries from the more sophisticated Boeing fleet he would later supervise.
Shortly after the Armistice of World War One, Brother Schaefer, then a young lieutenant, piloted an Army plane to Wichita, Kansas, using the "iron compass" the whole journey from Post Field. His was one of the first military planes to land in Wichita, and the newspapers hailed his landing as a banner day. A number of young airmen in Wichita had already begun producing commercial aircraft, and many businessmen were becoming keenly aware of the benefits and profits of aviation.
In 1920, Bro. Schaefer resigned his commission and entered private business in Galveston, Texas. But he soon returned to Wichita where he worked as a sales manager of the E. J. Rodda automobile agency. In March 1928, he was hired at Stearman Aircraft and concentrated mainly on sales. The next few years were good, but then the Great Depression struck.
Fortunately, Bro. Schaefer's decision-making ability was superb. His colleagues regarded him as a "spark plug" and a "driving force." The Stearman Company was nearly forced to close, but Bro. Schaefer was determined to keep it open. With the help of 13 other courageous employees and by the company's taking on any available job, the doors were kept open. That decision soon paid handsome dividends because Stearman Aircraft was put to work producing a long line of Boeing Kaydet Primary Trainers. The sturdy little two-place biplanes became a familiar sight all over the world and the official standard primary trainer for pilots in both the U.S. Army and U.S. Navy. Production by Stearman, the predecessor company of what eventually became Boeing's Wichita Plant, increased dramatically under Bro. Schaefer's guidance as its president and general manager, but the young executive found time for Masonry.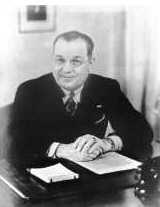 Brother Julius Earl Schaefer

Upon completing his York Rite Degrees, he signed a petition for membership in Midian Shrine Temple on September 8, 1927. His dedication to Masonry and Shrinedom took off like a Boeing plane when he was appointed to the line of officers and eventually became Potentate of Midian Shrine Temple No. 118 in 1949. During World War II, Brother Schaefer oversaw an output of 1,644 B-29 Superfortresses; 10,346 Boeing Kaydet Primary Trainers; and 750 Boeing CG-4 Gliders.

Many employees of Boeing followed the example of Brother Schaefer, then Boeing's Vice President and General Manager, and became Masons during the World War II years. One was my father, Brother John William Marples, 32. Many of his coworkers were Masons and helped in "coaching" proficiency in the Degree work. Freemasonry clearly contributed to a healthy work environment, especially during this turbulent time.

Back then, the Blue Lodges in Wichita were open and conferring Degrees 24 hours a day. Degree teams worked in shifts to accommodate the hundreds of men who eagerly wanted to join Masonry.

It is important to note that during the troubled era of the 1940s, Brother Schaefer was concerned about the many thousands of Boeing employees. Simultaneously, as a Shrine Temple Officer, he provided leadership for several thousand Shriners. In addition, he was an energetic civil leader, Chamber of Commerce director, and Rotarian. He wore many hats in addition to his fez and was clearly a hero by any standard.

For decades, Boeing planes have served our military well with the B-9, B-17, B-29, B-47, and B-52. The modified B-52 Stratofortresses continue on patrol today. It's a miracle how the `freedom of flight' has now come full circle in that the newest aviation technology literally protects all our other freedoms. Furthermore, Boeing's commercial aircraft have logged millions of miles criss-crossing the globe with the 707, 727, 737 and, more recently, with the 747, 757, 767, and the revolutionary "triple 7," Boeing's 777. Boeing has a long tradition of meeting the public's needs, and its best-known aircraft Air Force One serves the President of the United States.

True heroes live up to their billing. Indeed, the name Boeing is synonymous with reliability and dependability. Much of that reliability is directly attributable to the heritage of dedication instilled by Brother J. Earl Schaefer. Just like a good craftsman, he wanted his product, all of Boeing's legendary planes, to be "well-formed, true, and trusty."