---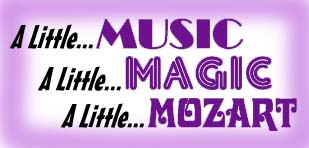 Jim Tresner, 33
Book Reviews Editor for the Scottish Rite Journal
Editor's Note:
Publication information has been carefully checked but is subject to change. Before ordering, we recommend you contact the publisher.

---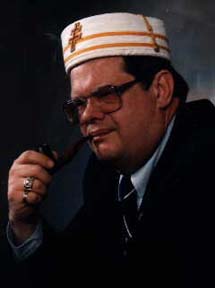 Every year, in June, one of the world's major Mozart festivals takes place in Bartlesville, Oklahoma. Performers and orchestras with international reputations descend upon the community. There are concerts, walking tours, and demonstrations of everything from eighteenth-century singing technique to harpsichord construction. There are dozens of lectures as well, and Brother Robert G. Davis, 33, Secretary of the Scottish Rite Bodies of Guthrie, Oklahoma, and I are privileged to be asked to give lectures on the Masonic influence in Mozart's music.
Bartlesville Masonic Lodge No. 284 is a major player, too. One room in the Lodge is set up on the Fellowcraft Degree, with Mozart's Fellowcraft music playing on a state-of-the-art system, and a Brother is there to tell visitors about the Degree and the music. Another room is equipped with a video projector, showing tapes of performances of Mozart. A third room is equipped with a bank of computers on which visitors, especially children, can play games featuring Mozart's music.
It's appropriate that Mozart should receive attention from Masons. Perhaps no composer in history every wrote so much music for and about Masonry. Mozart was an active and enthusiastic member of the Fraternity, and The Magic Flute, the final opera he wrote shortly before his death, is a Masonic allegory filled with Craft symbols. And even Masons who have little interest in classical music and would prefer a root canal to listening to opera, can enjoy Mozart's music. So this month's reviews pay tribute to this genius Brother and his work.

---
Mozart: The Complete Masonic Music, two CDs, $9.99 VoxBox CDX5055. Order through your local record store or write to: Essex Entertainment, Inc., 560 Sylvan Ave., Englewood Cliffs, NJ 07632
Except for the opera The Magic Flute (Die Zauberflöte) and, arguably, Thamos, all Brother Mozart's Masonic music is here in this two-CD set with Peter Maag conducting the Choir and Orchestra of the Vienna Volksoper. Mozart wrote music to be used in the Lodge for processions, incidental music for the Degrees, and compositions to be sung at refreshment. Concerts were frequently a part of a Lodge meeting, with musicians improvising works on the spot or performing works written for the Lodge. The key of E-flat was considered at the time to be an especially "Masonic" key (there are three flats in the key signature), and Mozart used that key extensively in his music for the Lodge. Much of the music is obvious in intent-for example "Masonic Funeral Music," "The Little Masonic Cantata," "The Fellow Craft's Journey." Some of the music, although not intended for Lodge use, was quickly adopted by Lodges as being Masonic in spirit. This is an excellent collection.

---
The Magic Flute: An Opera in Two Acts, Music by Wolfgang Amadeus Mozart, The Original Text by Emanuel Schikaneder and Carl Ludwig Giesecke with English Version by Ruth and Thomas Martin, Paperbound, $18.95, 167 pages. Order from: Music Division, 960 East Eleventh Street, Winona, MN 55987
This publication contains the words and music of The Magic Flute. While we call it an opera, it's more like a musical comedy-with spoken dialogue interspersed with songs. Both the dialogue and songs are in this edition, but the music is in piano reduction. The German text is given in full. Fortunately, for those who, like me, learned what little German they know from watching Hogan's Heroes, there is an excellent English translation as well. It's helpful to have a copy of the score if you want to be able to go back and study individual passages in the opera.
Speaking of The Magic Flute, two videotapes of performances are listed below. None of them is completely true to Mozart's stage intention-most directors simply don't understand the Masonic symbolism involved and so make changes which alter the allegorical story Brother Mozart is telling. But in each case, most of the works's Masonic details are preserved. Essentially, The Magic Flute is an exploration of the Entered Apprentice Degree with some references to the Fellowcraft. Because much of the symbolism has changed over time, it's helpful, even for a Mason, to have a guide. Chailley's book, listed below, is one of the best.

---
The Magic Flute, Glyndebourne Festival Opera production, two video cassettes, 164 minutes, $49.95. Video Artists International, Inc. P.O. Box 153, Ansonia Station, New York, NY 10023
This is the most complete production available to my knowledge. It is well-staged and produced. English subtitles are provided. Of the productions available on video, this is probably the closest to Mozart's original intention.

---
The Magic Flute, Ingmar Bergman's production, video cassette, 134 minutes $29.95 + $5.50. Order catalogue #AAHVC080169 from: Critics' Choice Video, P.O. Box 749, Itasca, IL 60143-0749 or call 1-800-367-7765.
For sheer beauty, it's hard to beat this production. Bergman, the famous Swedish film director, brings all of his famous cinematic techniques to this remarkable version of the opera. More than the others, this production points up Mozart's humor, and Bergman adds some humor of his own in the interlude between the two acts (Tamino and Pamina playing chess, with a little devil watching; the Queen of Night and her ladies lighting up under a sign which reads "Smoking strictly prohibited," etc.) Some of the original work's Masonic symbolism is missing, and portions of the music have been cut, but it is a joyful experience nevertheless.

---
The Magic Flute Unveiled: Esoteric Symbolism in Mozart's Masonic Opera by Jacques Chailley, Softbound, 336+ pages, $14.95, Inner Traditions International. To order, telephone 1-800-246-8648.
Jacques Chailley is Professor of Music History at the Sorbonne and an outstanding scholar. For my money, he has produced the most complete study of the symbolism in The Magic Flute ever written. He takes the reader through the intricacies of the work as one idea piles onto another. And he proves his interpretations with quotations from the rituals of Mozart's time, both of Masonry and of the Adoptive Lodges. He shows that the opera is a presentation-a recasting-of the First Degree as it was known in Mozart's Lodge. Most of us today have lost the habit of thinking in the symbols of Masonry. Chailley's book helps to "jump start" the brain again, leading us through the wonderful and deeply satisfying symbolic complexities of the opera. If you enjoy the symbolism of Masonry and the speculation of the "Speculative Craft," you'll enjoy this book, even if you never watch the opera.

---
Mozart: A Life by Maynard Solomon Softbound, 640 pages, $20.00 Harper Collins Publishers, Inc. To order, telephone 1-800-331-3761.
When Mozart: A Life was published in 1995, it was hailed as perhaps the best biography of a musician ever written. It is a staggering success of a book. It reads easily, is filled with meticulous research, but is presented in such a graceful style that the scholarship never gets in the way of the story of this fascinating Brother. Mozart comes alive in this book-you'll feel you know him like your best friend when you finish. Solomon is one of the few biographers to understand the enormous importance Masonry played in Mozart's life. He devotes a chapter to the Fraternity, but, more than that, he shows throughout the book how the Fraternity influenced critical moments in the composer's life. I can highly recommend this as a book you won't want to put down. And one quick additional fillip.

---
Unseen Journey: The Mystery, Myth and Truth of Freemasonry Videotape, $34.95 (includes S/H), 60 minutes. Order from: Eye Films and Video, P.O. Box 3606, Oak Brook, IL 60522-3606. Make checks payable to the Grand Lodge of Illinois.
This beautiful tape about the Fraternity was created by the Grand Lodge of Illinois. It starts with music from The Magic Flute, and Mozart and the opera form leitmotifs throughout the tape. The tape features sequences by Brothers John Robinson and Jerry Marsengill, as well as some spectacular photography. The Ritual scenes are beautifully and sensitively staged. It's well worth the price.
---