Jose J. De Luna, 32, K.C.C.H.
Two Brethren rise far above the average in blood donation.

---
Let me introduce you to two very busy, quite average men who can't wait to do extraordinary things like rolling up their sleeves and stretching out their arms every eight weeks to donate blood. They are Brothers Paul S. Murphy Jr., 32, and Marvin Frankel, 32.
Brother Murphy was born on May 7, 1926, in San Diego, California, and was raised a Master Mason in Clairemont Mesa Lodge No. 799 located in San Diego on February 16, 1976, serving as its Worshipful Master in 1980 and 1984. He is a member of the San Diego's Scottish Rite Bodies, Al Bahr Shrine Temple, and the Order of the Eastern Star, Palomar Chapter No. 565 (Past Patron).
Brother Murphy was a Management Systems Programmer with Rhor Industries in San Diego, California. His wife, Edith, a former elementary school teacher, was Worthy Matron in the Order of The Eastern Star Chapter No. 565 in 1981 and is currently President of The Social Order Of The Beauseant.
Brother Marvin Frankel, 32, was born on February 1, 1925, in New York City and began his Masonic career in 1958 at Charity and Relief Lodge No. 72 at Mystic, Connecticut. He became a Scottish Rite Mason in the Valley of Trenton, New Jersey, and was inducted as a Shriner in Mecca Temple, New York City. In 1980, Brother Marvin Frankel relocated to San Diego and affiliated with several Masonic Lodges and Darius San Diego Chapter Royal Arch Masons No. 61. In 1988, he was Master of Point Loma No. 620 and High Priest in 1992 but had to resign due to illness in his family.
A very active Mason, Bro. Frankel holds membership in and is a regular attender of four Lodges, the San Diego Scottish Rite Bodies, Al Bahr Shrine, Philalethes Society, and 1997 President of San Diego County Masonic Service Bureau. A remarkable aspect of Brother Frankel and his wife Bernice is that both at one time in their lives were stricken with polio. He walks with slight difficulty, and when you shake his hand, you cannot help but notice less than a full grip. His sweet wife goes to many of the social aspects of Masonry and never refuses a warm smile as she strides along with her walker.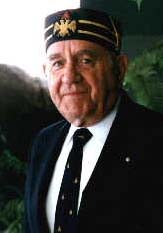 Bro. Paul S. Murphy, 32
So what is so legendary about these men? Perhaps we all undoubtedly strive to achieve certain milestones in life whether it be in our professions, scholastics, sports, the arts, or Masonry. A lot of us always have a strong desire to do something positive that will stand out for years into the future. For some of us---there should be more---this "standing out" involves donating blood.
I remember when I first donated a unit of blood. I thought, "This is great!" I could not wait until my donations added up to a gallon. Many years later, when I finally reached what I thought was the pinnacle, the eight-gallon milestone, I felt I had really achieved something in my quest to help others. Then I learned about Brothers Murphy and Frankel.
In San Diego, the Blood Bank recognizes its gallon donors with a complimentary outing at Sea World. Donors who have reached the ten-gallon milestone and above are publicly recognized at the Sea World event by a representative of the Blood Bank and given "ten gallon" western hats.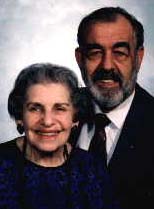 Bro. Marvin Frankel, 32, with wife Bernice
There I was in the stadium bleachers feeling great about my own donations and applauding those who reached an even higher level, the ten-gallon mark and beyond. As the donors were called on stage by the announcer, the first to be recognized were the few at the very top. Two of these were Brothers Murphy and Frankel who had reached, respectively, the 52- and 44-gallon marks. That's 768 pints! As I witnessed them challenging the walkway and steps to reach the announcer, I realized that 768 pints equate to nearly two barrels of life-saving donations. To me it meant that they possibly had saved 768 lives without knowing who the lucky persons were---whether child, woman, man, Freemason or non-Mason.
As a point of interest, the San Diego Blood Bank identifies donations from Lodge members and holds them in reserve for a certain period of time. Then, if the donation is not used by a Mason or his immediate family, the Blood Bank allows it to go into its general system for use by anyone in need. The same system is used for donations from other groups.
What an exciting time it was to see these Brethren reach their awesome milestones. These are humble men who really do not realize they are giants in the area of blood donations. They are true life-savers. I have the utmost respect for these awesome men whose generosity has made them legends in their own time.