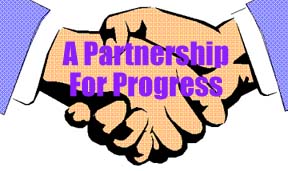 Carleton A. Shore, 33
A special Scottish Rite-community partnership has led to the creation of a new Childhood Language Disorders Clinic in Western Maryland.

---
Our S.G.I.G. in Maryland, the Illustrious Dr. Bernard E. Rothman, 33, kept prodding us, "Why don't you try to get a language clinic started in Western Maryland?" Sure! The Baltimore Consistory has the Hilgenberg Scottish Rite Center, a first-class Childhood Language Disorders facility, and a membership five times greater than our Cumberland Consistory. How could we come up with the kind of finances required for a clinic? We had established a Scottish Rite Foundation under Maryland law, and each year we give seven $1000 scholarships and approximately another $5000 to charitable organizations. That's not too shabby. But a clinic? Impossible!
Following one of our Personal Representative meetings in Baltimore, we had another opportunity to visit the Baltimore clinic. The clinic was being renovated to expand its services. Again the question, "Why not a clinic in Western Maryland?" We said, "Well, we will see what we can do." But we knew we could not do it without help.
Our first call was to Dr. Jane Fiscus, the Director of the Allegany County Health Center in Cumberland. She informed us that the Allegany County, Maryland, League for Crippled Children, a private non-profit agency, housed in the County Health Center, would like to expand its speech program. The League has served the children of Cumberland and its contiguous area for over 70 years. Providing orthopaedic and speech therapy to thousands of children, the League is held in high regard by all who know the great service it provides. We made contact with Mrs. Ellen Stevenson, Director of the League, to express our interest.
Several weeks went by before we were invited to attend a breakfast meeting with Mrs. Stevenson and several members of the Board of Directors of the League. The President of the Board of Directors was no stranger to the Rite. Bro. J. Glenn Beall, 32, K.C.C.H., a former U.S. Senator, knew well the Scottish Rites national commitment to the Childhood Language Disorders Program. He assured us that his 16-member Board of Directors would look with favor at the idea of some kind of partnership with the Rite. We suggested that Mrs. Stevenson and her therapist visit the Hilgenberg Scottish Rite Center in Baltimore.
The visit to the Baltimore facility certainly made a big impression. Mrs. Stevenson and her therapist were very excited with what they saw, and they then fully understood that the treatment of childhood language disorders is truly the Scottish Rite's national philanthropy. Inspector Rothman then suggested that Mrs. Stevenson attend the first National Scottish Rite Speech Disorders Conference in Denver, Colorado, October 20-21, 1996.
Following the Denver conference, we had more informal meetings with the League's Directors. We proposed to fund the renovation of two rooms in the Health Center and construct a state-of-the-art clinic. In addition, we would become signature to an agreement to commit annual sustainment funds for the clinic. The League would operate and administer the clinic and provide language services to all referrals within our Scottish Rite jurisdiction. The name of the clinic shall be the "Scottish Rite Childhood Language Disorders Clinic."
It has been nearly two years since that first telephone call. Today the clinic is complete and our therapist began work on June 29, 1997. Our Scottish Rite representative has been elected and will attend his first meeting as a board member of the League. Our open house at the clinic will take place on September 21, 1997. We are excited and so pleased that we are now a partner with the League to continue to reach out to young children with language disorders. We all realize that the sooner we reach these children, the more likely they will overcome their language problems. Let's not permit them to fall through the cracks!
We have a lot of work ahead of us. A fundraiser will be initiated this fall so as to create a capital fund to provide our annual sustainment to the clinic. Also, we must develop a network to assure an appropriate identification and referral process.
Impossible? Not really, but it is still a little unbelievable that we have accomplished so much in such a short time. We are fortunate to have many of our Scottish Rite members active in all facets of our community. Certainly this advantage and the national reputation of the Rite has truly made our new clinic in Western Maryland a reality.

---
Any Day Is An Appropriate Day To Fly The Flag!
The brief article "Your Flag" in the June 1997 Scottish Rite Journal concluded with a list of days "when it is appropriate to fly the American Flag." Though this list, slightly revised, was part of the original source for this article (a letter to "Dear Abby" citing a U.S. Army publication), it was incomplete and contained errors. Several Brethren, including Bro. Irving L. McWherter, 32, Americanism Chairman for National Sojourners, Inc., called these lapses to our attention. The complete list of "particular days for display" can be found in the United States Code (1988 edition) Title 36-Chapter 10, Patriotic Customs, which was printed in full in the special Flag Issue (July 1996, p. 56) of the Scottish Rite Journal. We regret the inadvertent error of the June 1997 article and assert, as did several Brethren in their letters, that "Any day is an appropriate day to fly the flag!"