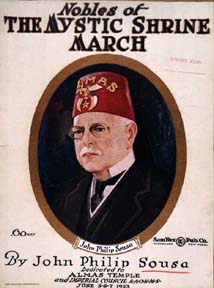 James A. Marples, 32
Rose Hill, Kansas
Sousa's stirring Masonic marches pay tribute to Masonry and America.

---
What do Sam Houston, Albert Pike, and John Philip Sousa have in common? All three were distinguished leaders in their fields of activity, all have a military background, each of them played the violin to various degrees, and all three were Masons. Even more strikingly, although they came from different parts of the country, all three of them became a Knight Templar of the York Rite of Freemasonry in the same city, Washington, DC.
However, Bro. John Philip Sousa is the only one of the three who lived in both the 19th and 20th Centuries. His skill and talent as the world-renowned "March King" transcended both centuries. Ironically, his most beloved work, enjoyed by millions of people in the 20th Century, was composed in the 19th Century, "The Stars and Stripes Forever" on Christmas Day 1896 and premiered in Philadelphia on May 14, 1897.
Bro. Sousa was a perfectionist who raised the level of performance and instrumentation of the concert band. He started on his road to destiny at the tender age of 13, being apprenticed to the United States Marine Band. His musical proficiency accelerated so rapidly that by the age 26, he surpassed many older bandsman to fill the position of leader of the band, also termed "the President's Own." A dozen years later, seeking to branch out on his own, he formed "Sousa's Band" which toured America, Europe, and once around the world, 1910-11.
Bro. Sousa's musical compositions were noted for being stirring renditions presented with heart-jolting vigor. Anyone who has heard "The Stars and Stripes Forever" has a new definition of breathtaking. When presented properly, that selection never fails to instill genuine American patriotism and loyalty to country via its melody.
I recall my own school days when I played trumpet in band. Sousa's marches, when performed while marching to a drill formation on a football field, were strenuous to all band members. Perhaps even more than some compositions, Sousa's pieces require split-second coordination between the brass section and the woodwinds, as well as discerning ears among the drummers and cymbal players. Each segment compliments the others; the arch is only as good as the whole band working together in unison. No single section can carry the load alone. Sousa intentionally created his compositions to produce that unusually brilliant, stirring cadence befitting America's glory. Indeed, to accentuate the most of every sound, Bro. Sousa devised the original upright Sousaphone which is similar to a tuba, but different in that it has a flaring, adjustable, upright bell.
Throughout his life, Bro. Sousa was eager to accentuate Freemasonry. He composed and dedicated several selections to his home Commandery of Knights Templar and to the national Masonic Body, the Grand Encampment of Knights Templar of the U.S.A. Paralleling that in 1923, he dedicated the "Nobles of the Mystic Shrine March" (see facing page) to his Shrine home, Almas Temple of Washington, DC, and to the Imperial Council as a whole.
On one very memorable occasion, Brother, Sir Knight, and Noble Sousa gathered over 50 Shrine Temple Bands together to form one giant band on The White House lawn. Quite appropriately, the most applause came after their rendition of "The Stars And Stripes Forever."
As we celebrate the Centennial of that composition, let us bring Americanism and Freemasonry to a Sousa-like crescendo!
---