Richard L. Carvajal, 33
Anthony, New Mexico
For many years, the 18 or Knight of the Rose Croix has been a family affair in the El Paso Scottish Rite Bodies.

---
It all started in April 1953 when Vernon L. Carvajal assumed the character of the Guardian of the Temple in the 18. Then in February 1959, Vernonís son, Richard, petitioned the Rite and was the Active Candidate in the 18 during a Winter Reunion. As soon as the Reunion was over, young Richard asked for any position in the Degree that might become available. Fortunately for him, the Senior Warden felt like retiring, and changes were forthcoming by the Spring Reunion of 1960. At that time, the father, Vernon, was moved to the Senior Warden and the son, Richard, became the Guardian of the Temple. This is only the beginning of what some affectionately refer to as the ďCarvajal Degree.Ē From that Reunion in 1960 until this last Spring Reunion of 1997, father and son have worked together in the Eighteenth Degree.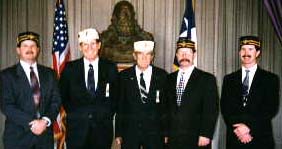 Steven, Richard, Vernon, Gary, and Bill Carvajal
Tragedy struck the 18 team in 1963. In quick succession, three Degree Masters died, Brethren had to shift roles, and Richard first assumed the Master of Ceremonies part and then that of the Degree Master in 1964. The 18 team for the Spring Reunion of 1964 stayed together until the spring of 1986. During this period of stability, all of the members of this team were honored by The Supreme Council and were coroneted 33 Inspectors General Honorary.
By this time, two of Richardís sons, Gary and Bill, had taken their Scottish Rite work and had become 32 Masons. Bill asked for any part which might become vacant. In the Fall Reunion of 1986, he became the Junior Warden of the 18. Not only were there three generations from the same family working in the 18 but the candidate for the 18 was Richardís other son, Steve. What a treat it was, grandfather, father, and son conferring the 18 on the grandson, son, and brother!
At the end of 1986, the Master of Ceremonies and the Guardian of the Temple felt that it was time for them to retire. Since Bill was already the Junior Warden, it was a logical choice that these two positions be offered to Gary and Steve, Richardís other two sons. Both enthusiastically accepted.
In the Spring of 1987, the 18 team was composed entirely of Carvajal family members. For the next ten years, three generations of the same family worked together. This year completes 44 years for the grandfather, 37 years for the father, and over 11 years for each of the sons. Clearly a great family affair!
---