George E. Harrison, 33
Pasadena, California
Many family activities spark interest in the Valley of Pasadena in California.

---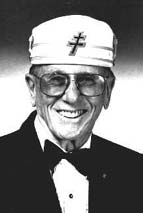 The Pasadena Scottish Rite has been family oriented for a long time. Over the years, we have had family shows with professional entertainment at least three or four times per year. After each Reunion, we always have one such show to which the class members and their families are specially invited.
Outside programs, such as bus trips to baseball games or the theater, have also been scheduled. For the past several years, there have been bus trips to Laughlin, Nevada; this past year, there was a vintage train trip, and there was a trip this summer to attend the world-famous Laguna Arts Festival and Pageant of the Masters.
Also, during the winter Holiday Season, arrangements have been made for a harbor dinner cruise to view the festive lighting around the Long Beach/Los Angeles harbor area. We are planning a family golf tournament which, we hope, will become an annual event to raise money for our Childhood Language Disorders Center.
Our Extinguishing and Relighting of the Lights Ceremonies for Maundy Thursday and Easter Sunday have been open to families and friends for several years past. We use a modified ritual prepared by our own member, Illustrious John T. Ward, 33.
The ceremony was approved by The Supreme Council and is now being used in other Valleys throughout the Southern Jurisdiction of the Scottish Rite. In order to exemplify some of the lessons of the Scottish Rite to families and friends, we have presented at open meetings the non-esoteric portions of the 18th and 27th Degrees which have been very well received, and even more are planned.
For over 20 years, our Valley has had a small concert band, with lady and Masonic youth group members. The band has performed not only at Masonic functions but also at quite a number of public functions throughout the Los Angeles area.
We have a very active Woman's Association which has always been very supportive of Scottish Rite activities. A special room in our building was modified and set aside as a club room for the ladies. It includes several amenities such as a small kitchenette, a large TV set and VCR, and a projection screen.
Our Stated Meeting evenings always include a dinner to which families are invited, and while the men are conducting their business, the ladies have their own programs which often include a speaker or some form of entertainment.
The Woman's Association also arranges some special fundraising functions of its own, the principal one being an Annual Spring Fashion Show, the proceeds from which are donated to our Childhood Language Disorders Center. For the past several years, the ladies have raised thousands of dollars in this regard.
Each year we have a Christmas/Hanukkah Party which has the usual holiday fare of singing, gifts, entertainment, and refreshments. For the past two years, children and their families of our Language Center have also been invited. The party last December was a huge success. This year, for the first time, our Woman's Association also arranged a small party around Easter for the children of our Language Center.
Another family and public item on our agenda is our play "The Living Constitution" which is presented annually in or close to the month of September in observance of the anniversary of the signing of the Constitution of the United States.
This play has been presented for well over 40 years. It has been performed on our stage, in many Blue Lodges, and on several public stages. Last year, for example, it was enacted on a stage in a public shopping mall and attracted considerable attention. While the play does not lend itself too well for the inclusion of ladies in the cast, we have always had one lady portraying Betsy Ross.
As all of the above activities underline, Masonic family life is prospering in Pasadena, California.