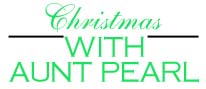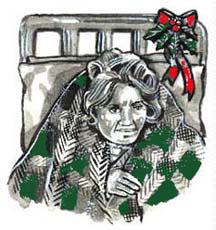 Robert E. Winterton, 33
San Diego, California
An anecdote of holiday giving proves that the best gift is love.

---
All four of our children were small. Only two of them had started to school, and we were uncertain how they would react to a brand new "aunt." She wasn't really their aunt at all. She was the aunt of my best friend who, with his family, had been sent to the Middle East on a government assignment. His aunt was old--really old. She was staying in a fine rest home in a community some 30 miles away. She had certainly not been abandoned by her family. They had made good provision for her upon leaving for the Middle East. She was well situated in one of the finest care facilities in the county, and her nephew had assured her that "his friend and his family" would give her personal attention.
I visited her on a regular basis, saw to her everyday needs, and handled the few financial arrangements necessary in her declining years. But she missed her great-niece and great-nephews and the companionship of family. We decided to make her a part of our family. I would leave early on Sunday morning, pack her wheelchair in the trunk, and take her to church with our family. After church, we took her home and, squeezing the children into smaller areas around the round oak table, made a special place for her in her wheelchair. She was delighted. That first Sunday, she not only enjoyed church, but especially the home-cooked fried chicken, mashed potatoes, gravy, and fresh vegetables--the normal bill of fare for our country home in San Diego County or her country home in Missouri where she was raised.
The children displayed a natural curiosity. This "aunt" was older than their great-grandmother. She didn't handle a fork and spoon much better than the smallest of our children and required a bib, just like the baby. Our smallest child, like a young Sherlock Holmes, sat on her lap and, with her finger, traced each mole and wart. Along the way, she discovered a few facial hairs of particular interest. We cringed! Was this going to work? It did! Aunt Pearl understood their curiosity and not only accepted it, but reveled in it. She was the center of attention.
Week after week, Sundays were a special time, and "Aunt Pearl" was the featured attraction, not only at church, but at the Sunday dinner table. She had become a part of the family. It was, therefore, somewhat shattering to the entire family when her doctor announced that Pearl could no longer leave the rest home. Her condition had deteriorated, and he deemed her too feeble to be moved...and Christmas was right around the corner.
Aunt Pearl loved the rest home, and she relished the excellent care she received there, but she missed the children. She also expressed a desire for a "fuzzy" blanket. The hospital blankets, though of high quality, didn't provide the softness she desired. We discussed as a family her need of a fuzzy blanket. We also discussed Christmas. To make matters worse, Christmas was going to occur on Sunday. We discussed all this with the children and asked for their opinions. They were quick in coming. We didn't need to have a Christmas tree or presents at home. We would simply go to church and, after church, visit Aunt Pearl, taking with us a fuzzy blanket. That was all the Christmas the children wanted. It was just about all we could afford, so the decision was a godsend.
After church Christmas Sunday morning, we went to the rest home, and the children dove onto Aunt Pearl's bed as though it were a placid swimming pool in the middle of July. They hugged her, they kissed her, they teased with her, they combed her hair, they painted her finger nails, and they changed the channel on her television set a million times (we didn't have a television set). We shared a basket lunch, and the children gave Aunt Pearl her fuzzy blanket. Time flew by like a whirlwind, and soon it was time to leave for the evening worship service. Good-byes were long and drawn out, and the last vision our children had of Aunt Pearl was of her sitting up in her bed like a princess, with a bright green plaid fuzzy blanket wrapped around her and tucked under her chin.
The children received no other presents that year. They didn't need them, they didn't miss them. They had received something you cannot buy with money.
The children are now grown and have children and grandchildren of their own. One of our granddaughters is a Past Honored Queen of Job's Daughters, and our oldest son is Past Master of his Lodge. Our children are mostly in the construction industry except for one who is an opera singer. And when we gather for Christmas, children, grandchildren and great-grandchildren, there are almost 30 in all. When the subject of great Christmases past is introduced, there are some recollections more colorful and glorious than others. But when the memory of their grandeur has been recited, our children top all the other Christmases when they tell their children and grandchildren about the Christmas with "Aunt Pearl."
Aunt Pearl died soon after the Christmas we all remember so well. I conducted her funeral service, and many of her biological nephews and friends attended the service. Her body was sent home with quiet dignity to her property in Missouri.
Her nephew and his family returned from the Middle East, retired from government service, and moved to Oregon. We used to visit them each summer. Their children and our children have become fast friends, the real and adopted great-nephews and great-nieces of Aunt Pearl.
Her nephew passed away a year ago last January. We traveled to Oregon, and I buried my best friend with Masonic honors. We continue to visit Oregon each summer, and our children's children are now fast friends. The two families keep visiting from Southern California to Oregon and back. I wonder what Aunt Pearl would think if she knew one of her nephew's sons and the daughter of one of her adopted nieces correspond by writing and phone on a regular basis. And from the look in their eyes, they seem to know they are not real cousins. That distant Christmas with Aunt Pearl presented our children with unexpected gifts never found beneath a tree--and those gifts continue to appear from year to year. It is truly more blessed to give than to receive.