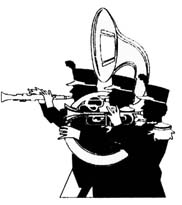 Robert L. Goldsmith, 33, S.G.I.G. in Florida
Grand Orator of The Supreme Council, 33
Melbourne, Florida
The phrase American prodigy aptly describes Brother John Philip Sousa.

---
Two years ago at this time, we paused to reflect on "an entire world free from tyranny and strife--a world able to once again enjoy freedom, a world where people are able to resume a normal way of life, free from oppression, able to speak their minds, happy and carefree."
Today, I ask that you join me in a tribute to an American prodigy, Brother John Philip Sousa (1854-1932), a man we have chosen to honor at this Biennial Session since 1997 is the centennial of Brother Sousa's greatest work, a melody recognized as our National March, "The Stars and Stripes Forever."
Brother Sousa's musical education began at the young age of seven when he was enrolled in an evening conservatory of music to study the violin. An extraordinarily gifted pupil, Sousa read music on sight with unusual accuracy and had perfect pitch. Encouraged by his father, during the next four years he studied voice, piano, flute, cornet, baritone, trombone and alto horn. At the age of 13, while practicing his violin at home, he was overheard by a circus band leader, who persuaded young Sousa to join the circus. However, the plot was discovered by his father who rose before John's departure time on that appointed day and escorted him to the Marine Corps headquarters where arrangements had already been made for Sousa to enlist as a "boy" or apprentice in the Marine Corps Band. This was the start of his military career.
Sousa's Masonic membership began in Hiram Lodge No. 10, now Hiram-Takoma Lodge No. 10. He joined the York Rite Bodies, Eureka Chapter No. 4 and Columbia Commandery No. 2, Knights Templar, and then Almas Temple, A.A.O.N.M.S. all located in Washington, D.C.
As a composer, Brother Sousa's most beloved work, "The Stars and Stripes Forever," has done more to arouse the patriotic spirit of America than any other composition, with the possible exception of "The Star Spangled Banner." Sousa's famous march begins with this verse:
Let martial note in triumph float
And liberty extend its mighty hand;
A flag appears 'mid thunderous cheers,
The banner of the Western land.
The emblem of the brave and true.
Its folds protect no tyrant crew;
The red and white and starry blue
Is freedom's shield and hope.
Hurrah for the flag of the free!
"The Stars and Stripes Forever" has been played by bands in junior high schools, colleges, and the military worldwide, and it has been legislated "The National March of the United States of America." After the bill passed in both houses of Congress, it was signed by President Reagan on December 11, 1987. The march has been used with considerable effectiveness to generate patriotic feeling ever since its introduction in Philadelphia on May 14, 1897. Sousa was very emotional in speaking of his patriotism. Asked why he composed this march, he insisted its strains were divinely inspired. He completed it on Christmas Day 1896 after returning from Europe. The march was actually born of homesickness. As Sousa told interviewers, some of the lines were conceived while he was still in Europe.
The Sousa Band was a concert band, marching only 7 times in 39 years. The band traveled over one million miles by land and by sea. Brother Sousa composed 136 marches, 15 operettas, 11 waltzes, 5 overtures, adding 322 arrangements and transcriptions. Also, he wrote 7 books, 138 magazine and newspaper articles, and 27 letters to the editor. His total works exceeded 800. Sousa's music has endured, and he is ranked as one of the most prominent American composers.
As its Bandmaster, Sousa led the U.S. Marine Band for 12 years, raising it from mediocrity to being one of the greatest military bands anywhere. Sousa received countless tributes from kings, presidents, and gov- ernments during his lifetime. When the American Bandmaster Association was formed, Sousa was elected its first Honorary Life Member.
Brother Sousa was a patriot who wrote music that made people stand tall and be proud to be an American. Here are just a few of these works, "Hail to the Spirit of Liberty," "The Invincible Eagle," "The Liberty Bell," and the greatest of all, "The Stars and Stripes Forever." These marches were intended to inspire fighting men to a greater effort and to build a fire in the hearts of his countrymen. He spent over 19 years in the military service, serving in the Marine Corps and the Navy and twice attempting to enlist in the Army. During World War I, at age 62, he enlisted in the U.S. Navy at the grand salary of one dollar a month.
In 1940 his likeness appeared on the Famous Americans series of postage stamps. Perhaps the most significant of all Sousa's honors was his election to the Hall of Fame for Great Americans. He was elected in 1973 along with Franklin D. Roosevelt, George Washington Carver, and Louis Brandeis, bringing the total number of Americans elected to this prestigious institution to 102. The United States Postal Service, as a salute to "The Stars and Stripes Forever," officially issued another postage stamp on August 21, 1997, officially saluting the one-hundredth anniversary of Sousa's "Stars and Stripes Forever" march.
As fate would have it, the concluding number he rehearsed with the Ringgold Band--and the last composition ever played under his baton--was his own immortal "Stars and Stripes Forever." Following the rehearsal, he returned to his hotel about 11:30 pm, and passed away at approximately 1:30 the next morning, Sunday, March 6, 1932, in Reading, Pa.
Shortly thereafter, Victor J. Grabel who became one of America's foremost bandmasters, wrote this moving tribute:
After John Philip Sousa there is no other. Bandmaster pre-eminent; composer of unrivaled popularity; sterling patriot; ardent sportsman; accomplished writer; charming storyteller; gentleman supreme--though honored by presidents and kings, and decorated by many foreign governments, he remained the simplest and most kindly of men.... Sousa's Band--a name of magical import!.... Without the genius and personality of John Philip Sousa, it [Sousa's band] could never have become a reality--without his guiding hand it passes into that eternal silence where are stored our most treasured memories. Affectionately known as "March King," his real kingdom was in the hearts of all music lovers--his crown jewelled with kindly deeds. Now he is gone--and there is no other.
This article records the oral presentation of the 1997 Grand Oration by Illustrious Goldsmith to The Supreme Council, 33, in General Session on October 7, 1997.