Rev. Robert L. Uzzel, 32
Waco, Texas
Ill. George J. Mecherle's life truly exemplified his company's motto: "Like a good neighbor, State Farm is there."

---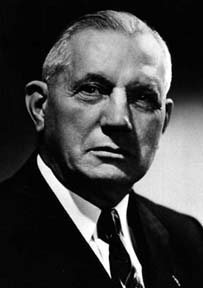 Every man who accomplishes anything worthwhile in this life will leave behind him many temples still unfinished when he departs this life." These words were spoken to his employees by George Jacob Mecherle, the founder of State Farm Mutual Insurance Companies and a very dedicated Freemason, shortly before his death. There can be no doubt that Mecherle, whose life was marked by transition from a humble prairie farmer to the head of one of America's largest insurers, drew much of his philosophy from the lessons he learned at the Masonic altar.
Illustrious George Jacob Mecherle, 33
Mecherle was born on June 7, 1877, on a farm near Merna, McLean County, Illinois. Until 1918, he devoted most of his time to agriculture, which he regarded as the most important business of mankind. It was more than coincidental that he started farming during the same period that the commercial production of automobiles began.
Based on his conviction that farmers in Illinois should pay lower premiums because they drove less and had fewer losses than urbanites, he started State Farm Mutual Insurance Company in Bloomington, Illinois, on June 8, 1922, one day after his 45th birthday. The name was inspired by the original clientele, the farmers of the state of Illinois. Before the end of the first year of operations, State Farm had penetrated most of rural Illinois, with agents known to help farmers with chores in order to obtain insurance applications.
By 1932, State Farm had penetrated 29 of the 48 states, where both employees and policyholders proudly displayed the company logo as if it were the symbol of a fraternal organization. In 1935, the Articles of Incorporation were revised in order to pro- vide a full range of insurance services. Brother Mecherle served as President until 1937 and as Chairman of the Board of Directors until his death in 1951. Today, State Farm serves rural and urban clientele in all 50 states and in three Canadian provinces.
Mecherle, who always demanded from others a willingness to work hard, faith in the organization, and loyalty to the "spirit" of State Farm, was a father figure to his employees who called him "the Chief." Eventually, he was made an honorary chief by the Winnebago Indians. To the end of his life, he maintained his interest in agriculture and regarded his "Old Place," the Mecherle farm, as his shrine. Under the direction of tenant and partner Walter Meers, this farm was highly successful.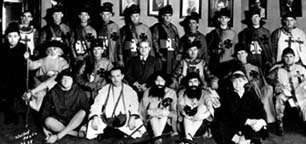 Bro. Mecherle (center, no costume) with the Bloomington 30th Degree Team, 1936
In his later years, the very accessible Mecherle welcomed to his office (which contained many items of agricultural memorabilia, including a Winnebago Chief's bonnet, testimonials, and pipes) many old-time prairie farmers who would drop by to chat with Mecherle about "the good old days."
Mecherle was a member of Bloomington, Illiniois, Lodge No. 43, Ancient Free and Accepted Masons; Bloomington Chapter No. 26, Royal Arch Masons; Peoria Council No. 11, Royal and Select Masters; DeMolay Commandery No. 24, Knights Templar; and Mohammed Temple, Ancient Arabic Order of Nobles of the Mystic Shrine. He was a very active member of Bloomington Consistory, Ancient and Accepted Scottish Rite, Northern Masonic Jurisdiction.
At one time, he arranged for State Farm to rent office space from the latter Body during a time of financial difficulty for the Scottish Rite. During his lifetime, a large number of Scottish Rite Masons were employed by State Farm. Twice a year, these Brethren enjoyed lining up in front of the State Farm building and marching two blocks to the Consistory building for a Scottish Rite Reunion. Mecherle served as Thirtieth Degree Master for a ritualistic team composed totally of State Farm employees. On September 29, 1943, he was awarded the 33rd Degree during the meeting of the Supreme Council in Buffalo, New York.
On March 10, 1951, Mecherle died at his home. His funeral was held at Bloomington Consistory. The large auditorium was crowded and an overflow audience listened to the dignified service over loudspeakers in another large room downstairs. His life truly exemplified his company's motto: "Like a good neighbor, State Farm is there." As his professional and Masonic careers demonstrate, he accomplished much in building the unfinished temples of State Farm and Freemasonry.
Special thanks to Ill. Ron Blue, 33, Research Department at State Farm's Home Office in Bloomington, Illinois, for providing this article's Masonic information and photographs.

---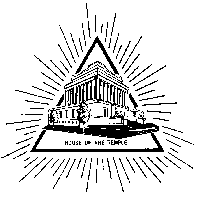 Please remember The House of The Temple Historic Preservation Foundation, S.J., USA, with your gifts and in your will, 1–800–486–3331.
---