A Heartfelt Presentation
Carol L. Roberts, M.A., CCC–SLP
In November 1997, Laurie Freundschuh, a Scottish Rite Speech/Language Pathologist, was invited to attend the annual American Speech-Language-Hearing Association meeting in Boston, Massachusetts, and present a "A Case Study of Language Development in Sanfilippo Syndrome." This paper was co-authored by Lavonne Levar, Clinic Coordinator at the Robert F. Pierce Clinic at University of Minnesota–Duluth.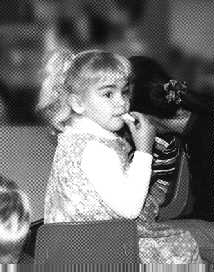 Laurie was instrumental in the diagnosis of Sanfilippo syndrome for a child, Sara (pictured right), who attends the Scottish Rite Clinic. Sara has been coming to the clinic since she was three years old. She is now six. Sanfilippo syndrome is a rare genetic disease (1 out of 24,000 births) caused by just one mutated gene which controls the enzyme that breaks down a body sugar called heparan sulfate. As a result, unprocessed sugar builds up to poison cells in the brain, a condition that eventually causes death by the time the person affected is in his or her late teens.
Tragically, this illness will slowly destroy Sara's ability to function. For three years, Laurie has been working against the clock to give Sara the language she needs to communicate with her family and friends. Right now Sara uses complete sentences to communicate her needs. Knowing the future means Sara will lose many acquired skills, including expressive speech and language skills, Laurie has designed a system of communication using a picture book that Sara uses now just for fun.
Physicians and other parents of children with Sanfilippo syndrome are impressed with Sara's ability to understand directions and express herself. Sarah's parents attribute this success to the wonderful intervention their daughter has received at the Duluth Scottish Rite Clinic, and they are deeply grateful. More research is needed in this area to help children like Sara. The National Organization for Rare Disorders funds research for more than 5,000 different rare genetic conditions like Sanfilippo syndrome. The Scottish Rite is glad to help Sara and so give support to this good cause.