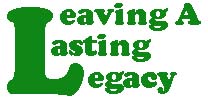 The successful treatment of a child leaves a legacy that lasts a lifetime.

---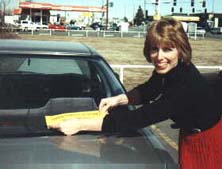 The Scottish Rite Learning Clinic in Twin Falls, Idaho, is trying a new way to get the word out about its services—bumper stickers (sample below). Melody A. Lenkner, Clinic Coordinator, pictured right, holds a sticker against a car window. The sticker is printed in brilliant neon yellow, and the clinic is looking forward to the day when every Scottish Rite Mason's car in Idaho will be identified by this stand-out notice of our Order's service to America's children.
The other day I had a conversation with a fellow Rotarian that set me to thinking. He was asking if I knew of any good service projects his Rotary Club could take on. As I opened my mouth to suggest our Scottish Rite Learning Clinic as a possibility, he continued: "Of course we want it to be something that will be a physical improvement for the community so that we leave a lasting legacy." I shut my mouth and began pondering the term "lasting legacy."
It seems the majority of people feel they have contributed something to a community of lasting value only if there is some thing—a park, jogging trail, playground equipment, etc.—bearing a plaque giving recognition to the donor. While I don't intend to demean these kinds of gifts, I wonder if this is the only way to leave a lasting legacy.
Consider the impact the successful treatment of one child through the Scottish Rite Childhood Language Disorders Program has on a community. Upon referral to our clinic in Twin Falls, Idaho, children are already negatively impacting their families. During an initial interview, parents frequently seat themselves on opposite sides of the table because of the bitter disagreement between them on how to manage their child. The siblings have been forgotten because of the attention focused on this particular child. Thus sibling interactions and the general family environment are fraught with turmoil. Also, the child is usually at significant risk for failing school and becoming involved in negative behaviors and activities.

Successful treatment of this child can turn the whole situation around. It eases family interactions and allows the family to have more energy to focus on the positive aspects of family life. The child is more likely to complete school and become gainfully employed. The children of these parents will also lead more successful lives because they are parented by happier, more fulfilled individuals. And you and I do not have to lock our doors or be afraid because this child is unemployed and angry.
Donations that help this child be successful cannot be played on or walked on, and plaques with names on them won't have a chance to age fastened to some post or wall. BUT this child and his children will leave the invisible, yet lasting legacy of a successful life given to him in love by caring individuals. I encourage all of us to rethink the notion of the durability of a legacy and become a part in creating one that, while not physically tangible, is nevertheless a gift to future generations.
---