Current Interest
August 1998
CONTENTS:
Family Of Ill. Abner V. McCall, G.C., Visits Supreme Council
Temple Visitors Welcome
Sen. J. Strom Thurmond, 33°, Honored By Scottish Rite Masons
One Million Hits And Counting
Valley Of Savannah Opens Speech and Hearing Center
Ill. James W. Brewer, 33°
"Buy A Brick" Campaigns
Royal Order Of Scotland Conferred In Washington State
San Francisco Scottish Rite Recognition Of Junior R.O.T.C.
USS Maine Remembered In Cedar Rapids, Iowa, Exhibit
Oklahoma Masons Support Public Television Programming
Working Together, Benefiting All In Mascot, Tennessee
Masonic Festival In Turkey
Lake Worth Foundation Receives Special Flag
Portsmouth Program Honors Outstanding Teachers
Donors Club Honored In Spokane, Washington
Guthrie, Oklahoma, Has Two Classes In One Weekend
---
Family Of Ill. Abner V. McCall, G.C., Visits Supreme Council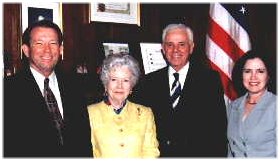 On April 24, 1998, Grand Commander C. Fred Kleinknecht, 33°, was very pleased to greet members of the family of Ill. Abner V. McCall, 33°, Grand Cross, at the House of the Temple in Washington, D.C. Before his passing on June 11, 1995, one day after his 80th birthday, Ill. McCall served, among other high offices, as President and Chancellor of Baylor University and Chairman of the Scottish Rite Foundation of Texas. Mrs. Mary McCall (2nd from left in photo below) was accompanied by her daughter, Nancy Chapman (right) and husband, Bro. Daniel H. Chapman, 32° (left), National Expansion Director, Northern Trust Corp.; Chairman of Board, Northern Trust Bank-Texas; and a member of the Valley of Dallas, Texas. Ill. William G. Sizemore, 33°, G.C. , Grand Executive Director, (not pictured) joined the Grand Commander and the McCall family for the tour of the building. The Scottish Rite Hall of Honor was of special interest to Mrs. McCall since funds for a Hall of Honor portrait honoring her beloved husband have recently been donated to the House of the Temple Foundation, Inc., by the Brethren of the Orient of Texas.
---
Visitors to the House of the Temple in Washington, D.C., continue to enjoy personal tours of one of Freemasonry's most magnificent buildings. Each year shows a steady increase as more and more Brethren, their guests, and others learn about the building by means of the annual House of the Temple calendar. In 1997, for instance, there were 2,475 visitors from across the United States and around the world. Located within a brisk walk from the White House and other Mall attractions, the House of the Temple can also be reached by using Washington's excellent Metro system by exiting at Dupont Circle (Red Line) and walking seven blocks NE to 1733 Sixteenth Street, NW. Guides are available daily from 8 am to 2:00 pm. The building is open on weekends by special arrangement for groups of 25 or more. Call the Grand Executive Director's office (202-232-3579) for more information. Visitors are requested to register at the door.
---
Sen. J. Strom Thurmond, 33°, Honored By Scottish Rite Masons
On April 11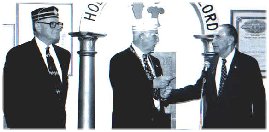 , 1998, (pictured l. to r.) Bro. Frederick W. Tonsing, 32°, and Ill. S. Marshall Sanders, Jr., 33°, leaders of the Valley of Aiken, South Carolina, shared a few favorite memories with Senator Strom Thumond, 33°, and presented him with three special recognitions of his status as a senior member of our Fraternity: a 50-Year Pin, a 50-year membership certificate signed by Grand Commander C. Fred Kleinknecht, 33°, and a special 50-year plaque. Senator Thurmond has been a member of the Scottish Rite since April 13, 1948, and is, at age 95, the nation's longest-serving Senator. Illustrious Brother Thurmond acknowledged the honor and responded with some favorite and memorable anecdotes. The Senator is actually the second local Scottish Rite Mason to gain the half-century status. He is joined by Aiken resident Illustrious Brother Zack W. Phillips, 33°, an 82-year-old retiree. The occasion, held in the Aiken Masonic Temple, was open to the public and received extensive coverage in newspapers and on television.
---
The April 1998 Web Server statistics report for www.srmason-sj.org notes visits to the Internet site of The Supreme Council have topped one million! The site was established in August 1996 and has grown steadily in popularity, peaking with 30,151 visits in March 1998. On average, there have been 1,564 visits per day since August 1996, and every day more Brethren and others are consulting the Website's listing of present and past issues of the Scottish Rite Journal, a virtual tour of the House of the Temple, chapters from outstanding books, Scottish Rite Research Society materials, and a variety of Masonic booklets and pamphlets.
An unexpected evidence of the popularity of The Supreme Council's Internet site was received from Travis Smith, Pick Editor of the Los Angeles Times. He wrote: "Your site has been selected as the Times Pick for 3/31/98 by the Los Angeles Times. The Times Pick is a service we provide for visitors to our site, offering them a guide to what's new, timely, useful, and interesting on the Web. We believe that your site is of real value to the people who use our site, and we believe many of them will want to see what you have to offer. While this award doesn't constitute endorsement or support for the content of your site, it does indicate that you offer valuable information, excellent entertainment, or interesting services. Congratulations again on your award."
| | |
| --- | --- |
| | Our site was awarded a Times Pick by the Los Angeles Times on 3/31/98. |
---
Valley Of Savannah Opens Speech and Hearing Center
| | |
| --- | --- |
| | Ill. Jimmy P. Smith Jr., 33°, General Secretary, Valley of Savannah, Georgia, presents a print of an original 1913 watercolor of the Savannah Scottish Rite Masonic Center to Professor Conni Wambold at the May 1, 1998, official opening of The Scottish Rite Communicative Disorders Center at Armstrong Atlantic State University, Savannah, Georgia. |
The Scottish Rite Communicative Disorders Center at Armstrong Atlantic State University, Savannah, Georgia, officially opened May 1, 1998. This is the first clinic in Georgia which is not a satellite of the Atlanta Scottish Rite Hospital. It is the 127th Scottish Rite Childhood Language Disorders Clinic, Center, or Program in the Southern Jurisdiction. The center consists of four examining rooms for testing and teaching, a technology room equipped with state-of-the-art computer equipment, and a screening room for evaluating hearing. Even before the center was opened, plans had begun to provide additional space on campus for expansion of the facility to support the already growing demand for the program at the university. The program currently has 63 undergraduate and 25 graduate Speech and Language Pathology students.
At the ceremony, a $10,000 check was presented to the University for the center. This is in addition to $10,000 which had been given in December 1997. These checks represent start-up funding from The Supreme Council. The Brethren of the Valley of Savannah are committed to continuing support of the center. A framed print of the original 1913 water color painting of the Savannah Scottish Rite Masonic Center was also presented to be displayed in the clinic.
---
At age 86, Ill. James W. Brewer, 33°, is looking forward to serving Freemasonry in the 21st century with as much enthusiasm and success as he has experienced for the better part of this century. Born in Bethel, North Carolina, on January 23, 1912, by age 9, Bro. Jimmy had started his business career by selling newspapers at 4:30 am. at Greenville's Norfolk and Southern Railroad Depot. Not even having an "Orange Crush" soda pop truck run over his right leg at age 12 prevented him, at age 13, from falling in love with 11-year-old Louise Clark who became his bride on August 18, 1934. Stints as a movie theater ticket-taker and projectionist introduced him to talking pictures and, in person, to Brother Will Rogers, 32°. Observing Brother Rogers establish instant friendships with some of the most prominent men of Greenville brought Ill. Brewer to a realization of Masonry and to petition Greenville Lodge No. 284, later transferring his membership to help form Crown Point Lodge No. 708 where he is still active.
Despite the Great Depression, Ill. Brewer moved from handyman's work in electrical wiring to a position with Greenville Utilities and then Tidewater Power Company in Wilmington before beginning an independent business career in insurance. At the same time, Ill. Brewer expanded his Masonic affiliations which included becoming a 32° Mason in 1946, Valley of New Bern, N.C., where he received honors (K.C.C.H. 1951 and 33° 1957) in recognition of his many services to the Rite. Masonic highlights of his life include being elected Grand Master of Masons, Grand Lodge of North Carolina, in 1961; Potentate of Sudan Temple, New Bern, in 1982; and Grand Treasurer of the Grand Lodge of North Carolina, 1961-1985. In these positions, he was privileged to become friends with such Masonic notables as Mel Blanc, Norman Vincent Peale, U.S. Senators B. Everett Jordan, J. Sam Ervin, and Jesse Helms as well as President Harry S. Truman. As Ill. Brewer says: "Friends like these are the greatest value you can have. You cannot buy or sell them." Via this brief account of his life, it is an honor to pay tribute to a truly outstanding Brother, Ill. James Woodrow Brewer, 33°.
---
A "Walk of Honor" is being added to the already impressive Scottish Rite Childhood Language Center's Earl H. Wicker Building in Richmond, Virginia. In recognition of a $50.00 contribution (100% tax deductible) to the center, a donor can have three lines, with 15 spaces per line, engraved on a brick. Bricks can commemorate loved ones, outstanding Masons, anniversary events, and the like. The "Buy a Brick" campaign will, to cite a Richmond fund-raising flyer, "Help a little child learn the magic of words through your generous gift." In the case of the Richmond Childhood Language Center, all pay-ments and donations must be turned in to the center by September 1.
The Brethren of the San Diego Scottish Rite Bodies have a slightly different approach to this type of fund-raiser. Each donation is shared equally between the local Scottish Rite Childhood Language Disorders Center and the building fund. Brethren are able to obtain inscribed bricks for affixing, in an attractive manner, to the front of the present Scottish Rite Center. A duplicate brick is made at the same time. When the new building is constructed, the duplicate bricks will be appropriately placed.
In Guthrie, Oklahoma, the Brethren have a similar campaign for support of the Scottish Rite Temple. Engraved bricks or stones are placed in the tiers of stairs approaching the building's main entrance. Three different sizes of stone, ranging from $50 to $400, may be purchased. These three examples are representative of similar programs in the Southern Jurisdiction and demonstrate an effective way to raise funds for worthy causes.
---
Royal Order Of Scotland Conferred In Washington State
| | |
| --- | --- |
| | On April 25, 1998, in Spokane, Washington, Provincial Grand Master Sir Edward H. Fowler, Jr., 33°, presided over the conferring of the Royal Order of Scotland Degrees on 104 candidates. Pictured above at the occasion are (l. to r.): Ill. William R. Miller, 33°, S.G.I.G. in Washington; Ill. Fowler, 33°, and M.W. Thomas C. Ehlers, 33°, Grand Master, Grand Lodge of Washington. Also see related story page 45. |
---
San Francisco Scottish Rite Recognition Of Junior R.O.T.C.
On April 29, 1998, the San Francisco Scottish Rite Valley awarded its first Annual Recognition for Scholastic Excellence, an award newly created by The Supreme Council and designed to recognize local high school students demonstrating Americanism in action.
What made these awards unusual was that the presenters of these awards, representing the Valley of San Francisco, all had military backgrounds of note. The group's chairman was Ill. Alan F. Reeves, 33°, current National Commander of the Supreme Headquarters Allied Expeditionary Forces Veterans Association (SHAEF). Also presenting the awards were Rear Admiral George Jahn (Ret.), 32°, K.C.C.H., skipper of the World War II Liberty ship Jeremiah O'Brien, which made the voyage across the Atlantic from San Francisco for the 50th Anniversary of the D-Day landings in Normandy; Ill. Kermit Lay, 33°, and Bro. Clinton S. Jennings, 32°, both of whom served 3 ½ years as war prisoners of the Japanese.
Requests for the Scottish Rite award, available only in the Southern Jurisdiction, should be channeled through the Valley nearest the locale of the Cadet recommended for this honor. If the location of the nearest Valley is not known, infor-mation is available from The Supreme Council headquarters. Either call 202-232-3579, or fax your request to 202-387-1843, or write to: The Supreme Council, 33°, 1733 16th St., NW, Washington, DC 20009-3103.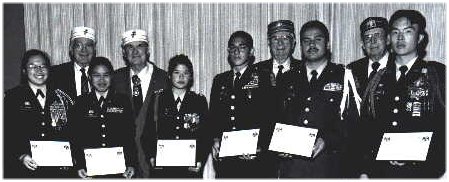 The awardees (l. to r. above) at the San Francisco Scottish Rite's recognition ceremony were Cadet Lt. Col. Lily Cheung, Washington High School; Cadet 2nd Lt. Arabelle Vidale, Mission High School; Cadet Master Sgt. Pearl Ho, Abraham Lincoln High School; Cadet Lt. Col. Matthew Cohen, Lowell High School; Cadet Sgt. Major Carlos Suazo, Balboa High School; and Cadet Lt. Col. Leo C. K. Chan, Galileo High School. All these schools are situated in San Francisco. Brethren of the Valley of San Francisco presenting the awards (l. to r. above) were: Ill. Alan F. Reeves, 33°, Kermit Lay, 33°, Bro. George W. Jahn, 32°, K.C.C.H., and Bro. Clinton S. Jennings, 32°.
---
USS Maine Remembered In Cedar Rapids, Iowa, Exhibit
A new exhibit at the Iowa Masonic Library and Museum in Cedar Rapids, Iowa, marks the 100th anniversary of the Spanish-American War and the involvement of Iowa Masons in the war. Titled "Remember the Maine: Iowa in the Spanish-American War," the exhibit opened with a public reception on April 25, 1998, and will remain open until October 30. Included in the exhibit are fragments from the battleship USS Maine which ignited the war when it mysteriously exploded on February 15, 1898, in Havana harbor, and an artillery shell from the Battle of San Juan Hill in which Lt. Col. Theodore Roosevelt, future President and Mason, led his Rough Rider Regiment. Other artifacts, among many photographs, include a bayonet, canteens, soldiers' caps, a horse bit used by cavalry troops, and a "handy-bag" sewing kit made by ladies of the Des Moines area and given to Iowa troops as they left for the war.
| | |
| --- | --- |
| Bro. Max O. Palmer, a member Twin Lakes Lodge No. 478, Rockwell City, Iowa, and his lady, Glayne, visit the "Remember the Maine: Iowa in the Spanish-American War" exhibit at the Iowa Masonic Library and Museum in Cedar Rapids, Iowa. Bro. Palmer and the Palmer Foundation of Rockwell City were the sponsors of this commemorative centennial exhibit. | |
The 49th Iowa Volunteer Infantry went to Cuba in December 1898 and served there, doing garrison duty, until about April 1899. In the Philippines, another area of the Spanish-American War, the 51st Iowa Volunteer Infantry served from December 1898 until September 1899. The 51st was the only Iowa unit, during the early stages of the Philippine Insurrection, to see combat. Masons are also represented by Cuban artifacts, such as Masonic swords, from Masonic Lodges outlawed by the Spanish government during the war and an earlier uprising between 1868 and 1878. While some of the artifacts in the exhibit have been loaned from other organizations, the majority come from the library's own collection and were donated by local Masons such as Brigadier General Hubert A. Allen, a Mason from Independence, Iowa. He was Captain of the 49th Infantry during the war and donated several artifacts from the Spanish-American War and World War I to his Lodge.
---
Oklahoma Masons Support Public Television Programming

Each year, members of the Masonic Family take the telephones and the stage as OETA (the Oklahoma Educational Television Authority), Public Television in Oklahoma, holds its major fund-raising event. Lodges raise money for public television, and the contributions by each Lodge move across the screen during the evening. During program breaks, the Grand Master and other Masonic leaders are interviewed during what has become known as "Masons Night," the last Saturday night of the Festival and the biggest, most exciting night of the event. Leaders from the Grand Lodge, the Scottish and York Rites, Eastern Star, Amaranth, DeMolay, Rainbow, and Job's Daughters answer the phones and take pledges. During this year, the Lodges donated more than $48,700, the largest amount to date.
The Masons sponsor five of the most popular programs on Oklahoma Public Television -- Nature, This Old House, OETA Movie Club, National Geographic Explorer, and Louisiana Cookin' with Justin Wilson. Before and after each showing of the above programs, a 15-second spot features an animated Square, Compasses and G, which appear over a background of russet marble. The words "The Masonic Fraternity of Oklahoma" appear as the narrator reads text appropriate to each show. The text for Nature, for example, says "Local presentation of Nature is made possible by the Masonic Fraternity of Oklahoma, celebrating the wonders of the world around us." These television spots, seen millions of times each year, present a high public profile for Masonry and contribute to Freemasonry's positive community involvement. Congratulations, Brethren, on a job well done in Oklahoma!
---
Working Together, Benefiting All In Mascot, Tennessee
| | |
| --- | --- |
| | The membership of Mascot Lodge No. 738, Mascot, Tennessee, and Mascot Chapter 348, Order of Eastern Star, have a particularly good working relationship that helps each member, Masonry, and the community at large. Right, Kathleen Bolin, Worth Matron, and Bro. Paul E. McDaniel, 32 °, Worthy Patron, (front row) join the formal portrait of the new officers of Chapter 348 at a March 13, 1998, installation ceremony whose theme was "as we think of all God has done for us, may we become all He wants us to be." |
---
Just six months after the sixty Brethren of Marmaris Lodge No. 134, Marmaris, Turkey, laid the cornerstone for a new Lodge, the four-story building was completed and beautifully furnished, all debt free.
To celebrate the Lodge's second anniversary, more than 800 Brethren and guests from throughout Europe gathered in Marmaris on March 21, 1998, to share in a "Masonic Festival" which included several meetings, a bay boat excusion, a concert, a wedding, the formal dedication of the Lodge, Degree work, and a gala concluding banquet attended by Kenan Evran, past President of Turkey. With such a number of Brethren present, not everyone could get inside the Lodge room. Instead, closed circuit television was installed to allow Brethren in several other rooms and on the building's large terrace to witness the ceremonies.
Illustrious Robert W. Woodward, 33°, Deputy, American Military Scottish Rite Bodies, NATO Bases, brought the greetings as well as congratulations of Sovereign Grand Commander C. Fred Kleinknecht, 33°, to the assembled Brethren and, in particular, to Brother Metin Cangor, 32°, Master of Marmaris Lodge. Past President Evran, speaking at the banquet, also complimented W.M. Cangor and said: "This is the second time I have attended your festivities. I am happy and proud that you not only have built your Masonic Home, but also help the poor people and schools."
Among the many Masonic dignitaries attending the festivities were: M.W. Earle J. Hino Jr., Grand Master, and Gary A. Henningsen, P.G.M. and Grand Secretary, Grand Lodge of New York; Ill. Mario Guia, 33°, Lt. Grand Commander, Supreme Council for Portugal; Ill. Constantine Iancu, 33°, Sovereign Grand Commander, Supreme Council of Romania; Prof. Dr. Klaus Horneffer, Grand Master of A.F. & A.M. of Germany; George Dergachev, Grand Master, and Vladimir Djanguirian, Grand Secretary, Grand Lodge of Russia; David Gale, Grand Master of the British Freemasons in Germany; Andrew Morgen, Deputy Grand Master for Europe, Prince Hall Grand Lodge; Elias Maalouf, Deputy Grand Master for Lebanon and Syria; Dan Octavian Cocis, Grand Secretary, Grand Lodge of Romania; Israel Doni, Grand Secretary, Grand Lodge of Israel; and James W. Daniel, Senior Grand Deacon, United Grand Lodges of England.
Among the Turkish Masonic delegation were: M.W. Tunc Timurkan, Grand Master; Can Arpac, P.G.M.; Cavit Yeniciogiu, P.G.M.; Dr. Necdet Egeran, 33°, P.G.M. and, at age 92, the founder of the Regular Grand Lodge of Turkey; Tuncay Kesim, Deputy Grand Master, Turkish Grand Lodge; and all the Grand Lodge Officers of the Grand Lodge of Turkey.
| | |
| --- | --- |
| Among over 800 Brethren, ladies, and guests attending an International Masonic Festival held in Marmaris, Turkey, on March 21, 1998, were (l. to r.) M.W. Tunc Timukan, Grand Master, Regular Grand Lodge of Turkey; Kenan Evran, past President of Turkey; and Ill. Robert W. Woodward, 33°, Deputy, American Military Scottish Rite Bodies, NATO Bases, who represented Grand Commander C. Fred Kleinknecht, 33°, at the festive international event. | |
---
Lake Worth Foundation Receives Special Flag
| | |
| --- | --- |
| | Recently, Ill. James H. Kirby, 33°, (r. above) Personal Representative in the Valley of Lake Worth for Ill. Robert L. Goldsmith, 33°, S.G.I.G. in Florida, (l. above) presented a framed 13-star American flag to the Lake Worth Scottish Rite Foundation. The flag, to be included in the Foundation's museum, relates to the national period between 1778 and 1790. The exact origin of the flag is unclear, but Ill. Kirby reports it "came to me from my grandmother who said it had been in the family 'forever.'" |
---
Portsmouth Program Honors Outstanding Teachers
Since the Brethren of the Valley of Portsmouth, Virginia, joined with the Portsmouth Public School System in sponsoring the annual Portsmouth Public Schools Teacher of the Year Award, the event has grown in popularity and increased the positive public profile of the Scottish Rite in Virginia. On March 25, 1998, for instance, 180 educators, civic officials, and guests were hosted at a banquet in the Portsmouth Scottish Rite Temple, and over 300 attended the recognition ceremony which followed. Among those present were two State Senators, two State Delegates, and seven members of the Portsmouth City Council, including the Mayor and Vice Mayor of Portsmouth.
Teachers of the Year from each of Portsmouth's 28 schools are nominated by their colleagues, and final selection is by a general committee composed of members of the Parent-Teacher Association Council, the Portsmouth Education Association, the Department of Instruction, the Department of Human Resources, and the Portsmouth community at large. All selected nominees are present to receive recognition at the ceremony, but no one knows who the city-wide Teacher of the Year is until the honor is announced. This year, Shirley L. Brown, a Cradock Middle School general science teacher, was named from among the 28 semi-finalists as the Teacher of the Year. Dr. Richard D. Trumble, Superintendent of Schools, presented the award, and Ill. John R. Goodwin, 33°, Chairman, Valley of Portsmouth Committee on Education and Americanism, presented Ms. Brown with a cash award to be used by her as she sees fit in her classroom.
The Virginia Scottish Rite's sponsorship of the Teacher of the Year program was widely noted by the media in Portsmouth. Our Order's support of such civic programs throughout the Southern Jurisdiction reenforces the public's awareness of the Rite as a valued community partner. To the Brethren of Portsmouth, congratulations on a job well done!
| | |
| --- | --- |
| In recognition of her being named Portsmouth, Virginia, Public Schools Teacher of the Year, Shirley L. Brown received a framed certificate of recognition and a cash award from Ill. John R. Goodwin, 33°, Chairman, Valley of Portsmouth Committee on Education and Americanism. The award will be used as Ms. Brown sees fit to benefit her middle school general science class. | |
---
Donors Club Honored In Spokane, Washington

This is what makes America, America. This is what makes Masons, Masons. This is what makes Scottish Rite Masons the honorable men they are. Pictured above are Scottish Rite Masons, their wives, and friends who have opened their hearts and given generously to the Spokane, Washington, Scottish Rite Center for Childhood Language Disorders. This group, along with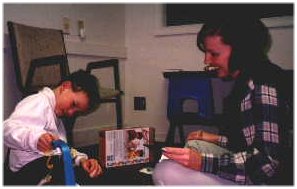 almost as many unable to be in the picture, gave in excess of $20,000. Such support enables the Donor's Club of the center in Spokane and the surrounding areas to help our children learn to talk.
Pictured right is Spokane's very talented full-time therapist, Sarah Neupert, in a session with one of her students. Jeremy has been learning in the Scottish Rite Center for just over four years and is very near graduation. The Board of Directors of the Spokane Center for Childhood Language Disorders and all Scottish Rite Masons applaud these wonderful people for all they do for our great philanthropy.
---
Guthrie, Oklahoma, Has Two Classes In One Weekend
Ballroom dancing, mask painting, and a slide/lecture presentation on the mansions of Newport, Rhode Island, were just a few of the many fun and interesting programs held for the enjoyment of the members and their ladies at the President's Reunion held in February at the Scottish Rite Temple in Guthrie, Oklahoma.
During the Three and One Day combination Reunion, held in honor of our U.S. Masonic Presidents, 133 Master Masons (pictured above) became Masters of the Royal Secret. It marked the third straight Reunion with more than 100 candidates joining the Valley of Guthrie.
And when you have two auditoriums you can do anything! All 29 degree teams of the Guthrie Valley performed on stage of the beautiful Main Auditorium during the weekend Scottish Rite festival. On Sunday, two Reunion classes met simultaneously, with the one day class receiving the Mandatory Degrees in the Egyptian Room during the morning and joining the larger three day class for the Consistory Degrees in the afternoon. For those wanting to join the Shrine, the India Temple hosted a Shrine Ceremonial on Sunday evening for the combination Scottish Rite Classes.
The Degree Work was outstanding, the classes attentive, and every temple organization conducted their responsibilities with a good mix of duty and fellowship. During the weekend, the candidates were conducted backstage, through the robe room, and essentially every other area of the Temple.
They got acquainted with the many volunteer groups who make the Reunions possible, and many were given invitations to join one or more of the groups when they come back as members of the Scottish Rite Bodies of Guthrie, Oklahoma, in the future. Clearly, the Masonic Presidents' Reunion was a great success in every respect.

---