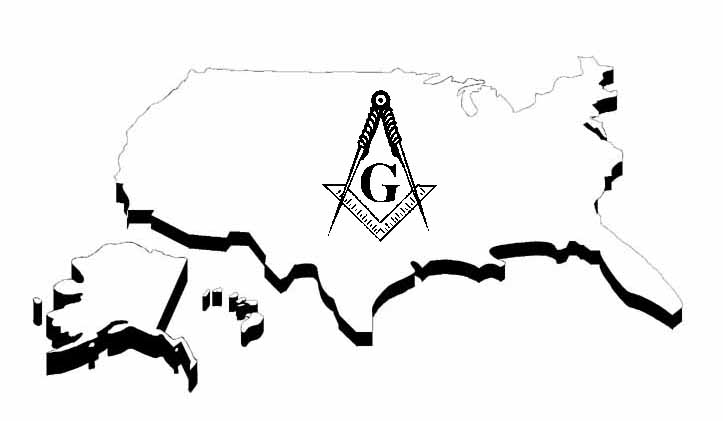 Whence Came You?
Morris C. Guss, 33°
28475 Barbosa Street,
Mission Viejo, California 92692-1845
Many geographic place names have a Masonic relevance.
Geographically speaking, Masonry's roots reach around the globe. What started as a cursory examination of the preponderance of Masonic-related names of cities and counties in the United States, ended as an interesting demonstration of the universality of Masonry. Did I leave out any Masonic names in your area? If so, mail them in to me at the address above.
NAME
STATE
Boaz
AL, KY, WI, WV
Brother
OR
Beehive
MT
Bethel
AK, CT, DE, ME, NC, NY, OH,
PA, VT
Cowan
IN, KY, TN
East Gate
NV, WA
Evergreen
AL
Faith
NC
Fidelity
IL
Freeman
SD, WA
Harmony
MI, MN, PA
Hermon
NY
Hiram
AL, GA, ID, IN, KS, KY, ME,
MO, ND, NJ, NM, OH, RI
Hope
AR, IN, ND, NJ, NM
Jachin
AL
Joppa
AL, IL, TN
Lebanon
CO, IL, IN, KY, MO, NH, NJ,
OR, PA, TN, VA
Mason
IL, KY, OH, MI, NV, TX, WA,
WI, WV
Mount Hermon
CA, LA
Mount Olive
AL, IL, NC, TN
Moriah
KY
Providence
KY, RI, UT
Relief
KY, NC
Seven Sisters
TX
Solomon
AK, KS
South Gate
CA, KY, MI
Steward
IL
Secretary
MD
St. Johns
AZ, FL, KS, MI, MO, VT, WA
Saint Johns
AZ
St. John the Baptist
LA
Temple
NH, OK, PA, TX
Tyler
MI, TX, WV
Warden
CO, WA
West Gate
FL, LA