Doing What Shriners Hospitals Do Best:

Imperial Council A.A.O.N.M.S.
Shriners Hospitals for Children
PO Box 31356
Tampa, Florida 33631-3356
Though the new Shriners Hospital for Children located in Sacramento, California, has been open for only a year, children with orthopaedic problems, including spinal cord injuries, and severe burns already have found out about the "miracles" that are taking place there almost daily.
Late last year, 17-year-old Brian picked up a pen and wrote his name for the first time in two years. By year-end 1997, Sergio and Jesse were planning their trips home, after spending much of the summer undergoing extensive medical treatment and rehabilitation.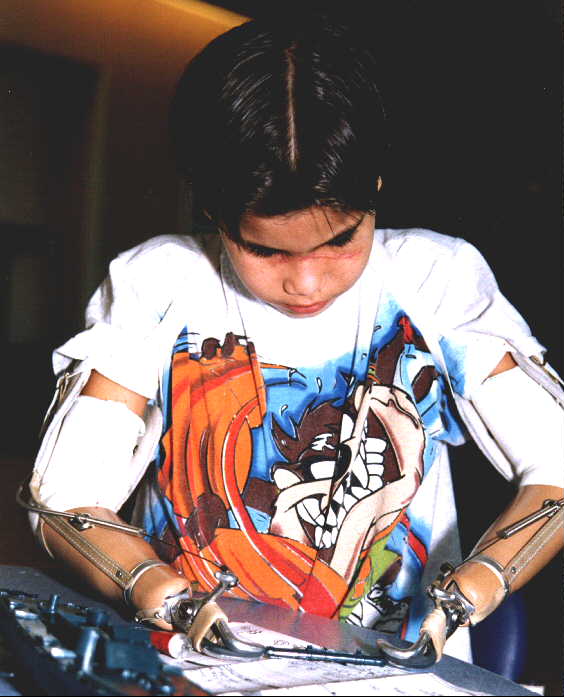 Sergio (right), who lost his hands to an electrical burn, was eating, building models, and buttoning his clothes with the prostheses prescribed by the hospital's orthopaedic team. Jesse, paralyzed in an all-terrain vehicle accident, had gradually mastered the art of navigating his electric wheelchair. Other patients, too, are experiencing their own "miracles" at the Northern California Shriners Hospital.
Yes, the newest addition to the Shriners' 22-hospital pediatric healthcare system is up and running, and the entire staff is focused on one thing -- helping children in need. "When the first patients entered our new hospital in April 1997, our staff immediately felt at home. At that moment, the hospital became more than a building. It became the place where we could do what we do best, care for kids," said Hospital Administrator Margaret Bryan-Williams.
The care the patients receive is enhanced by having highly skilled specialists in three disciplines -- orthopaedics, spinal cord injuries, and burns -- work under one roof. It is a system that promotes collaboration in treatment, teaching, and research.
For much of the professional staff, the four years preceding the April 14, 1997, opening of the Sacramento Hospital were a time of transition, both personally and professionally. Ground was broken on the new hospital in April 1993, and four years later, the hospital staff was treating new patients.
All areas of the new eight-story facility are designed to accommodate the special needs of patients and their families. From the brightly colored carpet, to the sleek operating rooms and the state-of-the-art intensive care units, it is clear this is a hospital for today -- and tomorrow.
| | |
| --- | --- |
| As visitors enter the new Shriners Hospital in Sacramento, California, they cannot help but be in awe when looking up at the impressive architectural design of the seven-story atrium. The flagship facility treats chldren with orthopaedic and spinal cord injury problems and youngsters with burns. It also houses a large research center. | |
Stretching from the lobby to the top of the seventh floor, the central atrium eliminates the boundaries between inside and out, and enhances healing by flooding the building with natural light. The human touch is always evident, and many hospital visitors are greeted by Shrine clowns and volunteers who work in the first-floor clinic and escort patients to their appointments.
Throughout the hospital are areas where families and patients can relax, enjoy the views of Sacramento and the Sierra, or visit informally with others. The family library is a quiet enclave for reading and research. Children of all ages engage in therapeutic recreation on the second-floor central activity area where it is not unusual to see a game of volleyball or adaptive football in full swing.
The hospital features 80 patient beds, nine parent apartments, five state-of-the-art operating rooms, a high-tech motion analysis lab, and an entire floor devoted to research.
Before coming to Sacramento as chief of staff-burns, David Greenhalgh, M.D., was assistant chief of staff at the Cincinnati Shriners Hospital. The recipient of a National Institutes of Health grant, Greenhalgh brought his research program with him. The sixth floor will be devoted to interdisciplinary research in burns, orthopaedics and spinal cord injuries, with a focus on tissue healing.
"The idea is that each service can make the others better," said Stephen Skinner, M.D., chief of staff-orthopaedics and president of the medical staff. "By working together, we actually make the entire hospital better and the care of the kids better," he added.
Partnerships are, indeed, the backbone of the medical programs under way in the new Sacramento hospital providing high-quality care to all patients. The hospital has teaching affiliations with the University of California-Davis and the University of California-San Francisco, and the residents and physicians at the nearby UC-Davis Medical School rotate through the Shriners Hospital to visit with patients.
Dr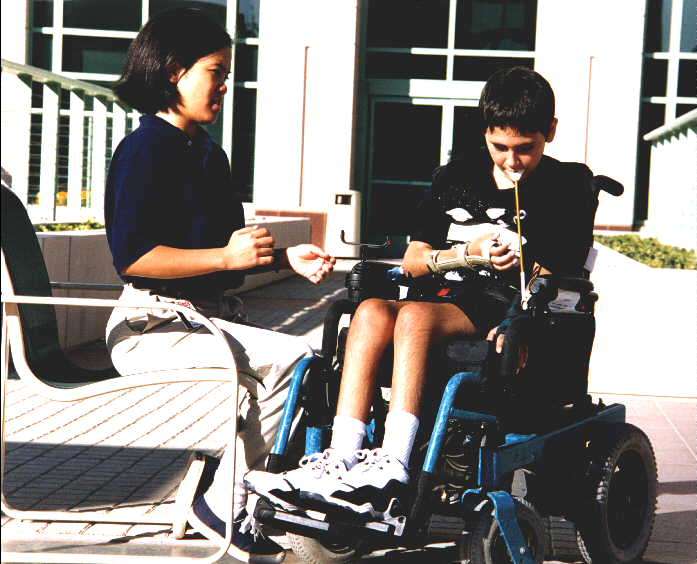 . Craig MacDonald, an associate professor of clinical physical medicine and rehabilitation at UC-Davis, is medical director of the Northern California Hospital's spina bifida program. MacDonald sees patients regularly in the hospital's first-floor outpatient clinic.
The clinic is also the place where one is likely to find one of Shriners Hospitals' unique teams -- Preston James, M.D., and Michelle James, M.D. Father and daughter are both full-time pediatric orthopaedic surgeons at the Northern California Hospital.
The treatment provided by the highly skilled medical personnel is enhanced by many hospital support programs. Professionals, ranging from educators to therapists, work together to treat the patient in mind, body, and also in spirit.
Social workers counsel patients and families, guiding them to resources needed to help them deal with many of the social and emotional issues involved in patient care. Parents can stay close to their hospitalized child in one of the parent apartments provided at no charge.
Virtually all patients participate in physical and occupational therapy that includes body-strengthening exercises, therapeutic play, as well as life-skills training in cooking and other occupational tasks.
Like all Shriners Hospitals healthcare services, braces and prostheses are provided at no charge. In the on-site orthotics lab, certified orthotists and orthotic technicians custom design and manufacture nearly 300 orthotic devices every month for their patients.
Therapeutic recreation specialists promote social interaction among patients and create opportunities for patients to play. The second-floor central activity area is a hub of activity, serving as home to adaptive sports, billiards, checkers, chess, and other recreational activities.
Math and language skills are honed at the on-site public school that provides bilingual education for preschool through 12th grade. A joint project of Shriners Hospitals and the Sacramento City Unified School District, the one-room school is staffed by a Shriners Hospital teacher and a teacher from the local school district.
The burns re-entry team, led by Clinical Nurse Specialist Catherine Gregory, has accompanied several children on their return trip to school. "These children have been scarred by their injuries. We want the children they interact with in school to know that while they may look different on the outside, they are still the same person on the inside," said Gregory.
Staff who are involved in treatment and rehabilitation also are devoted to crafting prevention programs for children. Hundreds of elementary school children, while visiting the hospital auditorium, already have learned that injured spinal cords do not mend like broken legs. In the coming months, hundreds more children will be taught lessons as part of the "Think First" spinal cord injury prevention program. There is a similar program aimed at preventing burns.
Bolstered by a support network that extends from physicians to volunteers, the children who come to the new hospital in Sacramento are embraced by a family of skilled professionals devoted to showing them new opportunities. As a result of the experience, many children who come to Northern California Shriners Hospital leave there believing that life's challenges do not have to be obstacles.
---
Photos courtesy Shriners Hospitals For Children