One Photo, Two Masonic Heroes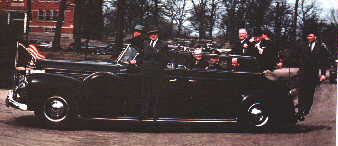 Scott T. Porter, 32°
A historic photo, taken by a 12-year-old boy, captured two world leaders and Masonic heroes, Winston Churchill and Harry S. Truman.
It was March 5, 1946. I was 12 years old. This is the story of one of the few, if not the only, known surviving color photographs taken the day Winston Churchill gave his "Sinews of Peace Speech," soon to become well known as his "Iron Curtain Speech," at Westminster College in Fulton, Missouri.
World War II had just ended. The invitation for Winston Churchill to speak at Westminster College was forwarded to President Harry S. Truman's personal aide in the White House. Brother Truman endorsed the invitation to Brother Churchill, adding "This is a wonderful college in my home state. Hope you can do it. I'll introduce you." Sir Winston, in response to the White House invitation, told President Truman, "Under your auspices anything I say will command attention." How prophetic. As they were spoken, few recognized the implications of Churchill's words, "from Stettin in the Baltic to Trieste in the Adriatic, an Iron Curtain has descended across the Continent."
Needless to say, invitations to Churchill's first major speech as a private citizen were in limited supply. My father, a minister of the First Presbyterian Church in Rolla, Missouri, received a single invitation. He asked me if I would like to go with him even though I would not be able to attend the actual speech. Of course, I said yes. The motorcade bringing Sir Winston and President Truman from the state capital at Jefferson City to Fulton was scheduled to arrive about 1:00 pm. By noon, a band was assembled in front of the Callaway Country Court House and was entertaining the crowd. The town was decked out in red, white, and blue everywhere. The streets were full of people. It seemed like public address speakers were at every corner with patriotic music playing. Later, Churchill's speech would be played over these same speakers so that those unable to get inside could hear Churchill give his address.
As a 12-year-old, I was everywhere. I took pictures of the crowd and anything else that seemed of interest. There were barriers to keep people off the street, where the motorcade of cars would be going within the hour, but that did not keep me from getting into the street. I kept moving, looking for what I felt would be a good location from which to photograph the motorcade. In 1946, cameras did not have built-in light meters, automatic focus, or auto-wind features. You had to do all that before you took a picture. If you were taking an action shot, you got one chance, and that was it.
As only a young boy could do, I soon found myself in a position on the front row of the crowd when the open car, a 1938 Buick, with Churchill and Truman sitting on top of the back seat, surrounded by "G-Men" on the running boards and rear bumper, came by. I remember looking at Churchill's left hand when I first got the developed slides back and wondering if he was about to give the V-for-victory sign. I still have vivid memories of that special day when I captured two world leaders and Masonic heroes in one photograph.
---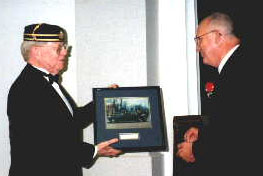 Scott T. Porter

pictured above (left) presents a copy of the Churchill/Truman photo to M.W. Anthony P. "Tony" Wordlow, 33°, Grand Master of Masons, Grand Lodge of California. Bro. Porter is Junior Warden at Granada Hills No. 378, Granada Hills, California. He was raised in Rolla Lodge No. 213, Rolla, Missouri., in 1955. He affiliated with Matinecock Lodge No. 806, Oyster Bay, New York, in 1958, where he maintains a dual membership. He is a member of the Scottish Rite Bodies of Los Angeles, California, where he has served on the Museum and Library Committee and Membership Committee. He is Vice President of the San Fernando Valley Scottish Rite Club and also a member of York Rite Bodies, Van Nuys, Calif. and the Al Malaikah Shrine, Oasis of Los Angeles.