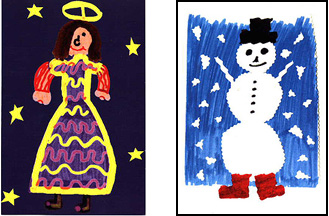 Mary Jane Debenport
Communications Coordinator
Texas Scottish Rite Hospital for Children
2222 Welborn Street
Dallas, Texas 75219–3993
Texas Scottish Rite Hospital for Children offers a meaningful way to send unique holiday cards.
When you send your holiday greetings this year, give the card that keeps on giving. Texas Scottish Rite Hospital for Children (TSRHC) offers special cards designed by young patients for your holiday messages. By purchasing your cards from the hospital, you not only send a cheerful holiday greeting to friends and family, you also send much needed support to children facing orthopedic conditions, related neurological disorders, and learning disabilities.
Since 1921, TSRHC has been supported solely by voluntary donations and has never billed a family for services received at the hospital. These special holiday cards are one of the important ways you can help support the hospital's mission. All proceeds from the sale of the cards will go directly to the care of our young patients, while a bright and touching greeting will go to your friends and family.
TSRHC has offered special greeting cards each holiday season since 1991. Many friends have made the specially designed cards a happy addition to their personal holiday traditions.
Two distinctive designs are available this year. Choose from "Heavenly Angel," designed by 10-year-old Heather Hahn of Richardson, Texas, or "Dancing Snowman," designed by 8-year-old Amber Heflin of Katy, Texas. Heather's artwork features a delightful angel illuminated by golden stars on a deep blue night sky. Amber's design depicts a cheerful winter scene of a friendly snowman decked in red boots and black hat. The message inside both cards reads "Wishing you a joyful Holiday Season and happiness throughout the New Year."
The cards are available for $10 per package of 20 cards/20 envelopes, plus shipping and handling (up to three sets, add $2; four to six sets, add $5; 7 to 10 sets, add $10). You're welcome to order several sets of one design or mix and match sets of both. For more information or to place an order for these special edition cards, call the public relations department of TSRHC at 214–559–5000, ext. 7656, or fax your order to 214–559–7657. (MasterCard and VISA are accepted.) Make your holidays a little brighter with the knowledge that you not only sent heartfelt greetings to your loved ones, but that you also helped make life a little happier and healthier for the children of Texas Scottish Rite Hospital in Dallas.